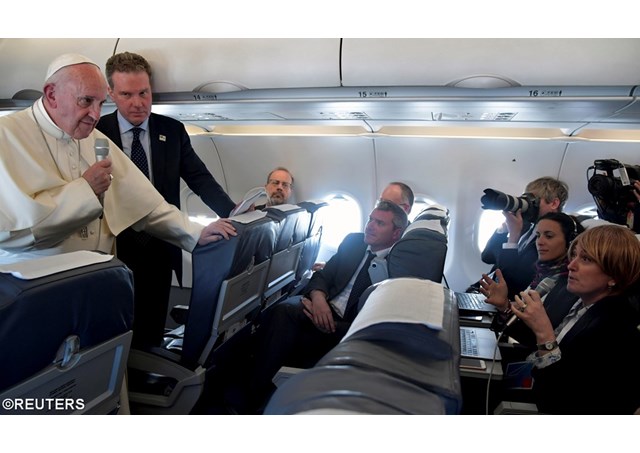 (Vatican Radio) The in-flight press conference, now a regular and much-anticipated feature of papal voyages, once again covered a range of diverse topics, as reporters took the opportunity to speak frankly with Pope Francis.
The Holy Father answered questions on topics including his upcoming meeting with U.S. President Donald Trump, to relations with the Society of Saint Pius X; from the alleged apparitions associated with Medjugorje, to the Church's ongoing attempts to confront the sex abuse crisis.
The press conference began, however, with questions about his pilgrimage. "Fatima is a message of peace brought to humanity by three great communicators who were less than 13 years old," the Pope said. He emphasized the theme of peace: "The world can hope for peace… With everyone I speak of peace!"
Asked about his prayer at the Chapel of Apparitions, in which he referred to himself as a "Bishop in white" – a clear allusion to the famous "Third Secret" of Fatima, Pope Francis noted that the prayer was composed by the staff of the Sanctuary in Fatima. He drew a connection between the so-called Bishop in white, Our Lady dressed in white at Fatima, and the white garment that expresses the innocence of little children after their Baptism. "I believe," he said, "that (through the color white) they have tried to literally express the will of peace, of innocence, of not making war to the other." With regard to the Third Secret, Pope Francis said then-Cardinal Ratzinger "explained everything about the third secret clearly" when the content of the message was made public by the Vatican in 2000.
The full text of the Pope's in-flight press conference can be found at the Vatican website; an unofficial English translation can be found on the website of Catholic News Agency. The quotations used above, as well as the excerpts below, are from CNA's English translation.
Concerning his meeting with Donald Trump
"I never judge a person without listening to them. Things will emerge from our conversation, he will say what he thinks and I will say what I think. On migrants, you already my opinion. There are always doors that are not completely closed, one must look for the doors that are at least a bit open, you have to go in and talk about what is common and go forward, step by step. Peace is handmade and is made each and every day. Friendship among people, mutual knowledge, mutual esteem are handmade, and done daily. Respect the other, saying what you think in a very honest way."
About the Society of Saint Pius X
"The current relationships are fraternal, last year I gave all their priests the permit to confess as well as a form of jurisdiction for celebrating marriages. . . . With Bishop Fellay I have a good relationship; I've talked to him several times. I do not like to rush things, but by walking and walking, we will then see. For me it is not a matter of winners or losers, but of brothers who are moving forward."
On the alleged apparitions connected with Medjugorje
"All apparitions or alleged apparitions belong to the private sphere; they are not part of the ordinary public magisterium. For Medjugorje, Benedict XVI set up a commission presided over by Cardinal Ruini. I received the results; the commission was composed of good theologians, bishops and cardinals. The committee report is very, very good. . . . The Ruini report states that the first apparitions when the seers were young must be distinguished from the others, and says that investigation should be done on those first ones. The report presents its doubts on the current alleged visions."
Concerning the sex abuse crisis in the Church
"I talked to [sex abuse survivor] Marie Collins and she explained to me the situation well, she is a good woman. She will continue to work with priests on training on this issue. She addressed this accusation and with some reason as there are so many cases, which are being delayed. Delayed because they were piling up. In this time, a legislation needed to be done; today in almost all dioceses there is a protocol to follow, and the dossiers are done well, it is a great advance."