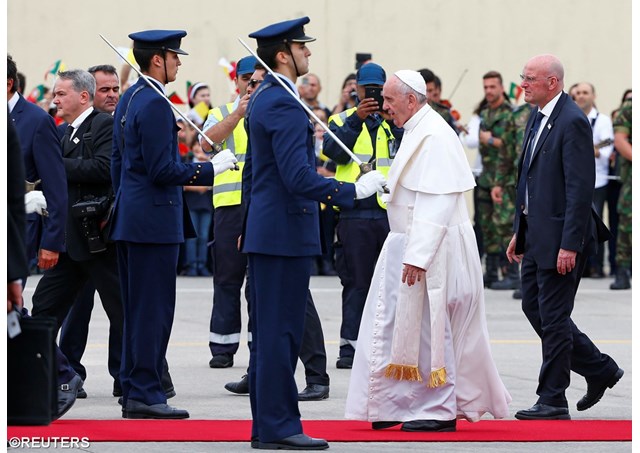 (Vatican Radio) Pope Francis's plane touched down at Monte Real Air Base shortly before 4:30pm local time in Portugal. The sky was threatening for much of the afternoon – not in the way it is always threatening a little rain in the height of springtime a thousand feet up and twenty-odd miles off the Atlantic coast – but a serious thunderstorm.
Chris Altieri is in Fatima with the Pope. He sent us this report:
The crowds at the airport were larger than I expected to see them, not only for the weather, but especially since they were there only to catch a glimpse of the Holy Father, who was not scheduled to deliver any prepared remarks and who in fact visited only privately with the President of the Portuguese Republic, Marcelo Rebelo de Sousa, and then it was to the chapel at the air base where he landed, to share a moment of prayer with the sick children of service personnel and their families.
Pope Francis, you see, is here on pilgrimage.
"A pilgrim of hope and peace," is how he described himself ahead of his departure – and he has asked the faithful all around the world to accompany him with prayers for the success of his pilgrimage.
Scores of thousands of people have taken him very much at his word, deciding to join him in Fatima for the celebration of the 100th anniversary of the first of a series of Marian apparitions to a trio of shepherd children: the now Blessed siblings and soon-to-be Saints Francisco e Jacinta Marto, and their cousin Lucia, who became a Discalced Carmelite and died in 2005.
That is the first sign of "success" – at least as such things are measured in worldly measures: people have noticed.
One of the fairly constant refrains of Pope Francis' pontificate has been his encouragement of popular devotion among the faithful: those acts of piety that moviemakers love so much and seem usually to understand so little, which have of late fallen rather away from the fore of the public Catholic mind, but that nevertheless constitute an integral part of Catholic life and an indispensable piece of the Catholic character, wherever the faith has taken hold.
We are all very much looking forward to what Pope Francis will say in his public engagements this evening at the Rosary to begin the vigil, and Saturday at the Mass of canonisation.
From here on the ground in Fatima, it seems clear that the Holy Father is staking this part of the effort to renew the faith of Europe by counting on the power of the faith to attract, especially when practiced simply and devotedly by the faithful themselves.
In Fatima with Pope Francis, I'm Chris Altieri