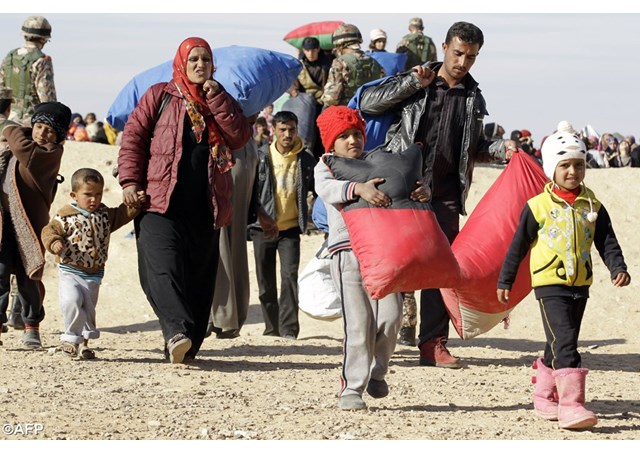 (Vatican Radio) With more than 5 million Syrian refugees living in nearby countries, 'Collateral Repair Project' is a charitable organization in Jordan that brings desperately-needed assistance to these refugees and other victims of war and conflict, those commonly referred to as "collateral damage."
Jordan is home to 1.4 million Syrian refugees and a smaller number of Iraqis. The majority of these refugees do not live in camps but in the capital Amman or other cities where it's a daily struggle to find the means to feed and support themselves and their families.
Tara Sutton is a board member of Collateral Repair Project and is also a journalist and documentary film maker whose work in conflict zones has won many awards. She spoke to Susy Hodges about the dire situation facing the Syrian and Iraqi refugees in Jordan whose lives she said are now "in a limbo."
Listen to the interview with Tara Sutton of Collateral Repair Project:  

Not enough money to go around
Asked about the overall situation facing these Syrians and Iraqis who were forced to flee their homeland, Sutton described the "refugee crisis" there as "overwhelming," saying the huge influx had placed "an enormous strain" on the host nation and the international humanitarian organizations who are trying to help. There's "not enough money" and resources to go around, she explained.
Living under a bridge in Amman
With little control over their lives and often having fled appalling violence in their homeland, around 80 percent of the refugees have "severe post-traumatic stress disorder", said Sutton. One example she gave to illustrate this trauma was the shocking story of a Syrian human rights lawyer, his wife and their gravely-injured 12 year old daughter Maria who were forced to flee with the clothes on their back after being targeted by the army. The family were rescued from their plight by staff from the Collateral Repair Project (CRP) after they were discovered during snowy winter weather living under a bridge in Amman and the little girl was taken to hospital for urgent medical treatment to treat a fractured skull.
On the brighter side, Sutton spoke of the practical projects carried out by the CRP to help create a community and a support network for these vulnerable people whose lives have been turned upside down by war and conflict. Despite all the many daunting difficulties faced by these refugee families, she remains convinced that their charitable work is helping "to make a concrete difference to their lives."