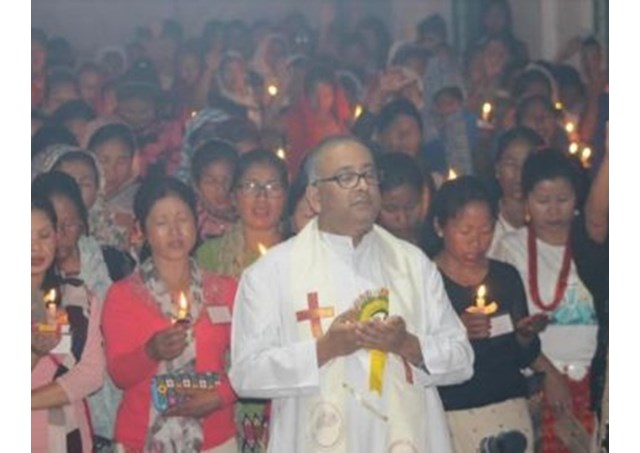 Around  450 Catholic women from the eight districts of eastern part of Arunachal Pradesh India, during a three-day convention, organized a candle light prayer rally on May 6 to pray for peace.    
This came as a response to a Central Government's declaration on May 5,  that Tirap, Longding and Changlang Districts of eastern part of  Arunachal Pradesh as disturbed area. 
Bishop George Pallipparambil SDB, the Bishop of Miao Diocese, who was there for the convention and the rally exhorted for peace across the Arunachal Pradesh and across India and the World. "Peace begins from home. We cannot change the world overnight but our sincere efforts everyday can make a difference to the society and world at large", Bishop George said.
He also recalled Mary's Apparition in Fatima, Portugal, to three shepherded children as we  mark the 100th this month.  Mother Mary who always intercedes for us and prays for peace in the world, pray for peace in our families, societies, our Districts, our State, in our Country and all over the world, said Bishop George.
Earlier speaking to the delegates, Bishop George exhorted the women to take active role in curbing the drug and alcohol menace in these three 'disturbed' districts. "Having our social gatherings without alcohol will be a great step towards building a drug-free peaceful society.
Mrs. Changan Tingkhatra, the President of the Miao Diocesan Women Convention 2017 and Mrs. Ngapnyai Jamikham, the secretary, organized the rally to give a social relevance to the religious gathering by organizing the rally. "Peace is the need of the hour and peace is needed now more than ever" said Mrs. Tingkhatra. "We hope our prayers bear fruit and results in peace in Tirap, Changlang and Longding Districts of Arunachal Pradesh".
The prayer rally began from St. John's Church, Kanubari and went around the Kanubari township with people praying the Rosary beads.  
One hopes that prayers and awareness gatherings such as this help transform these "disturbed" districts of Arunachal Pradesh into peaceful one. (Felix Anthony, Miao Diocese)