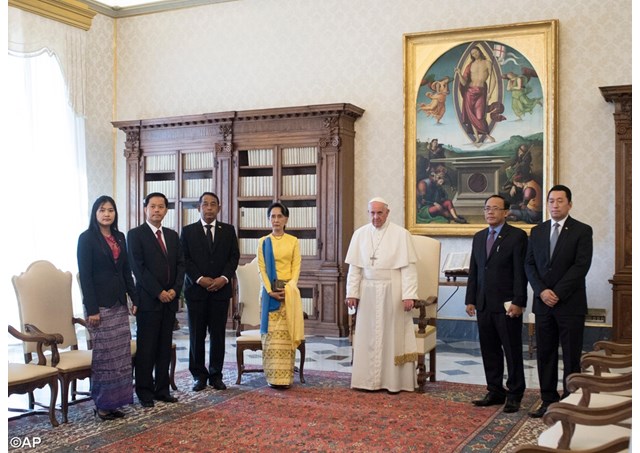 Bishop John Hsane Hgyi, the bishop of Pathein diocese of Myanmar has expressed joy over the joint agreement between the Holy See and the Republic of the Union of Myanmar of establishing diplomatic relations, a decision he says is for the positive evolution and for the steps towards change. 
The decision came after the meeting in the Vatican held on May 4, between Pope Francis and leader Aung San Suu Kyi, State Councilor and Foreign Minister of Burma.
The Bishop notes that the  main challenge is to resolve conflicts with ethnic minorities. He hopes all the different ethnic groups can join the May 24 national meeting  in Yangon for the signing of a ceasefire and make it  a real step towards national reconciliation.
All peoples in Myanmar and all religions want peace  he says but today the nation needs an effort on behalf of everyone to reach peace. The Catholic Church  expresses the utmost solidarity even with the Rohingya Muslims and  desires solutions that respect human dignity and human rights, according to criteria of peace and justice the Bishop notes.
The Catholic Church in Myanmar is observing 2017 as the Year of Peace and the faithful are encouraged to fast, make sacrifices and to raise awareness for peace in the nation.  Currently seminars and conferences are being promoted on the subject of reconciliation in different dioceses and the  collaboration of other religious leaders is sought the Bishop said.
The Government spokesperson Zaw Htay commenting on the diplomatic relations said that his country wanted to be part of the international family and that establishing diplomatic relations with the Vatican was key to that, given its role as a reference point for all Christians.
A spokesman for the Catholic Church in Myanmar, Fr. Soe Naing, said the new relationship would do more than merely facilitate direct contacts between the Holy See and Yangon.
The need for peace is expressed at all levels.  Cardinal Bo at an interreligious peace conference in Yangon on April 26 reminded his counterparts from other faiths about their moral obligation to build peace and harmony at the grassroots levels in the strife-torn nation.  He said that the wish for peace needs to shine through every word and deed, and solutions must be found through "dialogue and mutual understanding."
About one percent of Myanmar's 51 million people are Catholics where the church has been active for five centuries. The ‎celebrations for ‎the ‎‎500 years ‎of the Church in Myanmar should have taken place in 2011, but the political situation and ‎the lack of ‎true religious freedom then, did not allow for such a nation-wide ‎celebration.‎  Hence the ‎jubilee year ‎was marked from Nov. 24, 2013 to Nov. 23, 2014‎.(Fides)