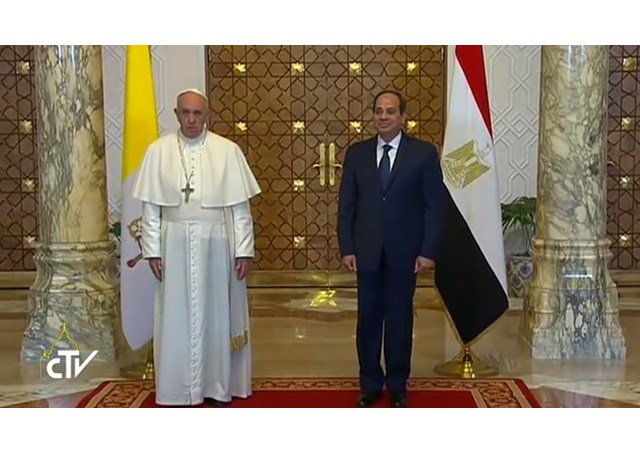 (Vatican Radio) Pope Francis has arrived in Egypt to begin an Apostolic Journey to the country.
The Pope touched down at Cairo International Airport this Friday afternoon where he was met by the Apostolic Nuncio to Cairo, Bruno Musaro and a representative of the President of Egypt, Abdel-Fattah Al Sisi.
After his arrival in the Egyptian capital the Holy Father travelled by car to the Presidential Palace to pay a courtesy visit on the Head of State which included a welcoming ceremony.
Following a private meeting both President Al Sisi and Pope Francis exchanged gifts. The Holy Father presented the president with a commemorative medal of his visit which depicts the Holy Family fleeing into Egypt by artist Daniela Longo.
Later the Pope will address an International Peace Conference at Al-Azhar University which will also be attended by the Grand Imam Sheik Ahmed el-Tayeb.