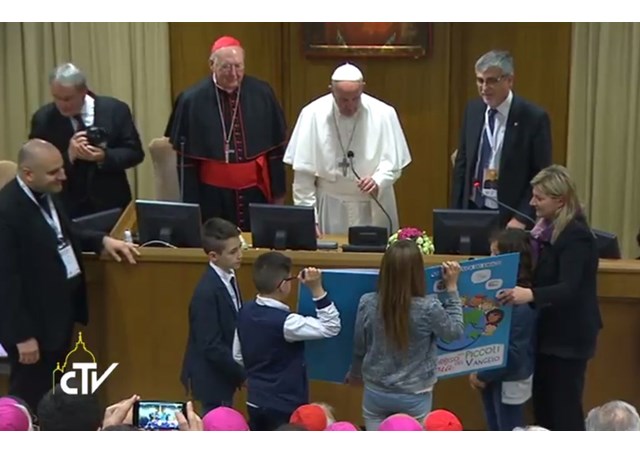 (Vatican Radio) Pope Francis received participants in the Congress of the International Forum-Catholic Action on Thursday morning in the Synod Hall at the Vatican.
The Congress is focused on the theme: "Catholic Action in Mission with All and for Everyone", and is marking the 150th anniversary of the organization's founding.
The charism of Catholic Action is one of lay-led missionary discipleship: faithful to the Pope, rooted in the local Church, and active in service especially and particularly at the parish level.
Listen to our report
In his remarks to the participants, Pope Francis focused on renewing the mission of Catholic Action by recovering the original sense of the apostolate and applying that sense of self-understanding to the concrete conditions encountered in contemporary life.
Delivered in his native Spanish, and based on bullet-points, Pope Francis encouraged the participants to foster renewal by becoming prayerfully active, outgoing, docile to the Spirit, willing to sacrifice, and open to surprises.
Among the highlights of the special audience was the presentation to the Holy Father of several gifts, including an English-language psalter found aboard a boat carrying migrants to Lampedusa, thousands of whom drown during the course of the dangerous voyage.
The fate of the psalter's owner is not known.