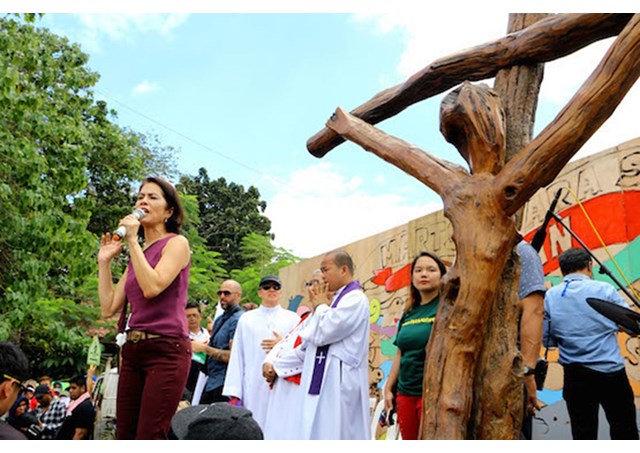 Fr. Edwin Gariguez, head of the social action secretariat of Philippine Catholic bishops, expressed support for a government plan to work with communist New People's Army (NPA) in implementing projects that will protect the environment.
Father Edwin Gariguez said the initiative of Environment Secretary Gina Lopez will "help open a window for peace."
"That's a very good initiative and move in pursuing the peace process while seeking to collaborate with stakeholders for social change for we need to seek and open windows for dialogue and lasting peace," Father Gariguez said.
Lopez announced on April 20 a plan to enlist the help of rebel fighters in implementing projects in mining communities, especially in the southern province of Agusan del Norte.
"I already asked [President Rodrigo Duterte] if I can work with the NPA," Lopez told a business forum. She said she already met with a rebel leader whom she described as an "ex-seminarian."
"What I've seen of the NPA, they just really want to get people out of poverty, they're really not bad people," said Lopez.
"If we're able to engineer a situation where they have inputs into the development plan, where their children and the people there can put food on the table and send their kids to school and everybody's earning and the place is beautiful, why will they fight?" she added.
Father Gariguez, however, said Lopez's move is "challenging." The priest said it is a "challenge to pursue social justice without recourse to violence."
"To lay down their arms is a gesture that the NPAs are agreeable to pursue their cause in a peaceful way," noted the priest.  (UCAN)