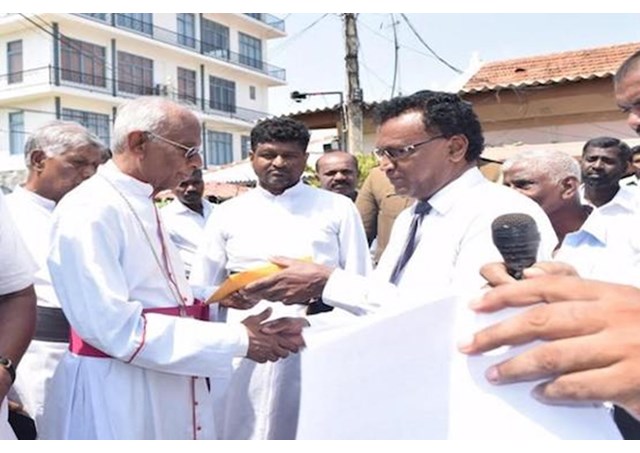 In Tamil-majority northern Sri Lanka, a Catholic bishop led a delegation on Thursday to the local representative of Sri Lanka's president, to hand over a petition by villagers to regain their homes confiscated by the navy some 9 years ago.  Bishop Joseph Kingsley Swamipillai of Mannar accompanied by 40 priest and 300 parishioners from St. Sebastian Church in Mannar marched April 19 to Mullikulam where he handed over the villagers' petition to the Government Agent of Mannar. 
Mullikulam village and fishing area of 500 hectares, originally home to about 500 families, was entirely confiscated in 2007 to transform it into the headquarters of the Sri Lankan navy's North-Western Command.  Sri Lanka's civil war between the Sinhala-dominated Sri Lankan military and the Liberation Tigers of Tamil Eelam (LTTE) that began in 1983 ended with a crushing defeat for the rebels in 2009.  Mullikulam village was hit hard by years of war as government and rebels snatched lands from each other.  According to the United Nations over 40,000 civilians died during the last stages of the war.
All Mullikulam villagers are Tamil Catholics, parishioners of the Church of our Lady of Assumption, built in 1786.  They began their protest on March 23 in front of their former village and continued through Good Friday and Easter Sunday.  The people have permanent title deeds for their agricultural lands and have engaged in a protest ever since.  Some 75 families, have been living in temporary huts in front of the navy camp Since March 23, cooking under the trees and bathing in a nearby stream.  Different families take turns to protest every day, including the Holy Week.
"We were evacuated from our lands by the military with a promise of returning them within three days but as of today we still cannot go back to our village, go to church regularly or take up our former livelihoods," Vincentamma Croose, an 83-year-old Catholic grandmother and protester complained to UCANEWS.  She said there were about 120 families that were temporarily resettled at Malankaadu, 150 families in the village of Kayakuli and about 100 families relocated to India to escape the war, Croose said. "In the past 10 years we demonstrated, handed over petitions, and discussed with government officials and international organizations but we still are out on the road," she said. "Many who went to India are willing to come back but they are waiting to see if they will get back their lands," she said, adding that those who were relocated, along with those who weren't, want their homes and livelihood back.
Charity Sister Nichola Emmanuel said that the navy has benefited from the lands for almost 10 years. "Several times these villagers protested and demanded their land back but the navy didn't listen," said Sister Emmanuel, who joined the protesters.  She said they were threatened by the navy on the very first day but they continued demanding their rights.  "Many priests, nuns and human rights activists show their solidarity with these people and the villagers will carry on their protest until they get back their lands," the nun said.  
At the 32nd UN Human Rights Council sessions in Geneva in June last year, Foreign Minister Mangala Samaraweera said that Sri Lanka would return all military-held land seized from Tamil civilians by 2018.  That dream of the villagers of Mullikulam has not been realized as yet.  (Source: UCAN)