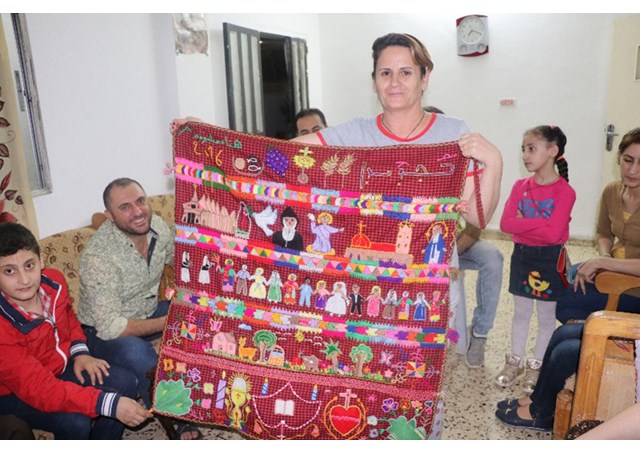 (Vatican Radio) On Easter Sunday, Pope Francis condemned an attack on Syrian civilians escaping from the civil war there, calling it "the latest vile attack on fleeing refugees". During his 'Urbi et Orbi' address, to the city of Rome and to the world, the Pope prayed for peace throughout the Middle East, decrying especially the bus bombing which killed dozens near the Syrian city of Aleppo.
Stephanie Saldaña is a writer and teacher who is currently spearheading a project called 'Mosaic Stories', seeking to protect the endangered heritage of refugees, especially those fleeing from the conflicts in Syria and Iraq. She has lived for many years in the Middle East and is passionate about the need to protect the cultures and languages that are disappearing as towns and villages across the region are destroyed.
She has met with refugees in camps, in churches, in subway stations and restaurants, both in the Middle East and in European countries where many of them have settled to begin a new life. She currently lives at the Tantur Ecumenical Institute in Jerusalem, where she shared some of her stories with Philippa Hitchen…..
Listen:
Stephanie describes her work as "a listening project". The first task, she says, is to try and understand from the refugees themselves "what matters to them" as they're fleeing from their homelands.
Often she has been surprised by the answers she has received, with her interviewees listing vegetables and fruit, trees or textiles, soap, traditional handicrafts, wedding dances, or languages such as Aramaic and Syriac, as the most important things they have had to leave behind.
Lost religious relationships
Another focus of her interviews "that comes up consistently" and which can "only be captured through stories", Stephanie says, are relationships: "people miss the relationships they had, particularly between diverse religious communities that have been dispersed because of the war"
She recalls that while she was living in Syria, she learnt about Muslims and Christians "visiting religious shrines together", or sharing meals at Christmas and the Muslim feast of Eid.  She heard many stories about friendships with Yazidis and "people longing even for the Jewish communities that have disappeared from Iraq and Syria".
Some of the displaced communities, Stephanie says, "still very fondly hold onto the memory of these relationships," even though "sectarianism has taken over".  In other places, she notes, especially among young Iraqi refugees,  "you hear this hatred which has grown because of the loss of their homeland".
Memories essential to peacebuilding
Part of raison d'être for this project, Stephanie says, is that she believes "these memories will be essential to peacebuilding" in the war torn nations. "If people can only remember what happened during war and there's no collection of stories about the relationships that existed before, then people won't be able to think of the possibilities of building those relationships again in a post war society".
While the 2nd generation of exiles often wants to forget the past, she notes, it is the 3rd generation "that wants to return and remember". Through an archive of stories and interviews, objects and videos, she is hoping to create "a place to safeguard these things" so that they can "locate those memories of the past".
Pressure to forget the past
Often refugees feel under "extreme pressure to integrate" in their new countries, Stephanie found, causing them to stop speaking their native languages. She tells of her encounter with an Iraqi teacher from Qaraqosh, now living in Jordan, asking him if he was teaching Syriac to other refugees there. "Oh no," he replied, "right now they want to learn French [and] English, they're thinking about moving forward, not about holding onto the past".
Stephanie also shares stories about some of the prized possessions brought by women who fled from Iraq and Syria. These include spices to make favourite recipes,  material for sewing traditional dresses, earth from shrines of loved ones, or simple objects that recall happier times, eating and drinking with neighbours before the war.
Stephanie notes that it is hard to "talk about refugees" in general terms, since some are "poor and have really lost hope", others are educated and "hoping to start over" in a new country, as well as "those who just feel lost in the middle".  But one thing they all hold in common is a desire to help their children, to get them into school, and to give them a better future.
Seeds of hope for the future
Stephanie concludes with a story about a driver from the Syrian city of Homs, who was unable to work during the conflict and fled to Amman with his family. She heard how he began to lose hope, waking up every day with nothing to do. But one morning he decided to build a small garden, planting a few onions and some mint. As he shared his story, he told her that next year he hopes to plant some tomatoes too. "In that story," Stephanie says, "I saw just enough hope to keep a man and his family going through these difficult times".