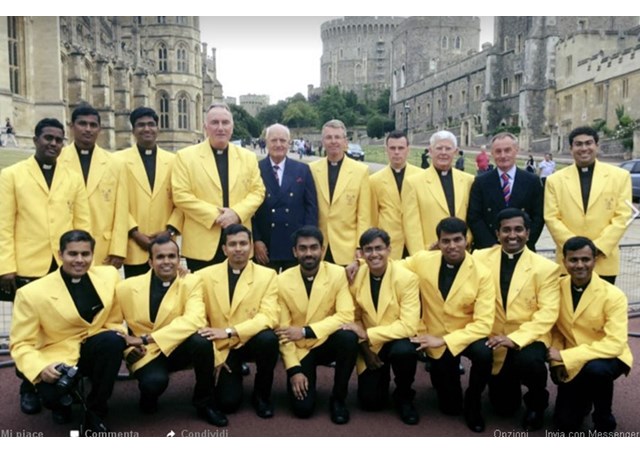 (Vatican Radio) Members of St Peter's Cricket Club take off for Fatima in Portugal on Wednesday for an interfaith tournament, as well as a visit to the world famous Marian shrine.
The four day sporting tour takes place just ahead of Pope Francis' visit to Fatima on May 12th and 13th to mark the 100th anniversary of the Marian apparitions there. 
St. Peter's players, comprised of priests and seminarians studying for the priesthood in Rome, travel to Lisbon and will spend the first day at the shrine in Fatima. Throughout this third 'Light of Faith' tour, they'll be hosted by the municipal council and people of Miranda do Corvo, near the historic university city of Coimbra.
One of the goals of the 'Vatican' Cricket Club, established in 2013 under the auspices of the Pontifical Council for Culture, is to build bridges with people of other Christian Churches and other faith communities.
Seminarian Jose Mathew from India is one of the team's top bowlers. He talked to Philippa Hitchen about preparations and expectations for this Portuguese pilgrimage…
Jose says the Vatican team has been preparing well for the tour, with a programme of physical exercise and practice matches, played against some other Pontifical colleges in Rome, as well  against a visiting team from England.
There will be three matches during the Portugal tour, but the team has other fixtures also lined up back in Rome with clubs from Ireland and the UK.
Jose says he had never dreamed of visiting Portugal and was unaware that cricket was played there, having only seen Portuguese footballers on TV. He recalls how he learnt at school about the Portuguese who came to India and how some of the words in his native language derive from Portuguese words.
Sports and spirituality
Jose says St Peter's has strong bowling and fielding skills, since most of the players are young and physically fit, making them fast in the outfield. He admits there are some "technical problems" with their batting and that they will be having two training sessions later in the year to "rectify" this.
Finally Jose speaks about the spiritual side of this sporting pilgrimage, recalling that the team is comprised not of "cricketers who happen to be seminarians, but we're seminarians who happen to be cricketers".  Prayer and spiritual exercises "come before cricket for us", he says, so this visit to Fatima is first and foremost an opportunity of "meeting Our Lady face to face".