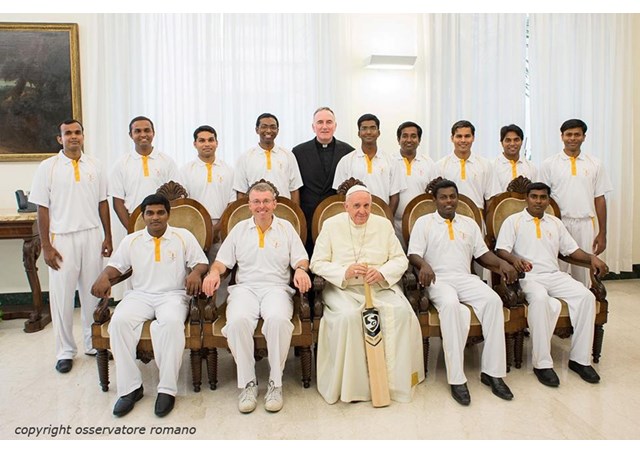 (Vatican Radio) St. Peter's Cricket Club, also known as the Vatican XI, travels to Fatima after Easter for an interfaith tournament that includes Muslim, Hindu and Jewish teams from Spain, Portugal, and the United Kingdom.
St Peter's third 'Light of Faith' tour takes place just ahead of Pope Francis' visit to Fatima to mark the 100th anniversary of the Marian apparitions there. The Pope will make a pilgrimage to the Portuguese town on May 12th and 13th.
St. Peter's Cricket Club, made up of priests and seminarians of different nationalities studying for the priesthood in Rome, will travel to Lisbon on Wednesday, 19th April, and will spend the day at the shrine in Fatima. During their four day tour, players will be hosted by the municipal council and people of Miranda do Corvo, near the historic university city of Coimbra.
One of the goals of the 'Vatican' Cricket Club, established in 2013 under the auspices of the Pontifical Council for Culture, is to build bridges with people of other Christian Churches and other faith communities. The Club has hosted Anglican and Muslim teams in Rome and has travelled twice to England on their 'Light of Faith' tours in 2014 and 2016.
St Peter's manager is Father Eamonn O'Higgins, spiritual director of the Maria Mater Ecclesiae Pontifical College in Rome. He told Philippa Hitchen about the sporting and spiritual goals of this Portuguese tour..
Fr Eamonn says St Peter's was invited by the Miranda do Corvo Cricket Club which wanted the team to come to Portugal for the 100th anniversary of the Fatima apparitions.
Originally the hosts were keen for the team to arrive with Pope Francis during his pastoral visit. Fr Eamonn says while this "would have made a great photo opportunity", it was decided "for pastoral reasons" to travel a few weeks ahead of the Pope, and "in some small way, to promote the Holy Father's visit in May".
Interfaith a priority for Pope Francis
Reaching out to other faiths and religions is important for Pope Francis, he says, underlining the significance of playing these interfaith matches.
Following the team's arrival on Wednesday morning, Fr Eamonn says the players go directly to Fatima to celebrate Holy Mass at the shrine's main altar and "to consecrate the team to Mary".  He stresses that "all starts with prayer", and for that reason team members have been praying each day for the spiritual fruits of the tour – while "practicing our batting and bowling as well!".