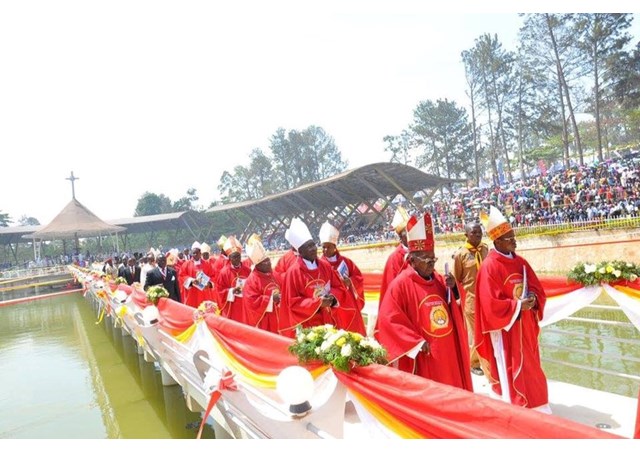 With less than 60 days to go before the 2017 Uganda Martyrs Day celebration, in Uganda, international pilgrims have already started register for participation.
Pilgrims from Zambia and Malawi are among the first international pilgrims to confirm participation, while over 800 pilgrims from the Diocese of Hoima (Uganda) have so far registered as foot pilgrims for the forthcoming Uganda Martyrs celebration due on 3 June at Namugongo Catholic Shrine.
The 2017 celebration will be animated by the Diocese of Hoima on behalf of Mbarara Ecclesiastical Province. The Chairperson of the Organising Committee at the diocesan level, Kiiza Aliba, confirmed recently that they have so far registered many pilgrims from Zambia and Malawi.
"We have already started the registration process for both local and international pilgrims. So far we received a list from Zambia and Malawi, making them the first international pilgrims to register for this year's celebration. We encourage other international pilgrims from different countries to register with us as it will help to ease our work (the organisers) on how to usher them in when they come," he said.
The Uganda Martyrs Day celebration usually attracts millions of enthusiastic pilgrims from across the world. Last year, Tanzania had the largest contingent of international pilgrims (4,961). Kenya had at least 4,000 pilgrims while others came from the Democratic Republic of Congo, Rwanda, Burundi, and South Sudan.
The Majority of these international pilgrims walked to Namugongo Shrine as a demonstration of their faith. Other international pilgrims also came from the United States of America, Nigeria, Mexico, Malawi, Italy, Zambia, Australia, Singapore, South Africa, Ireland, United Kingdom, Germany, and Canada.
The annual Martyrs Day celebration commemorates the heroic faith of the 45 Catholic and Anglican Martyrs who were burnt to death following the orders of Kabaka Mwanga II, the then King of Buganda between 1885 and 1887. Twenty-two Catholic Martyrs were beatified on 6 June 1920 by Pope Benedict XV, and on 18 October 1964, Pope Paul VI canonised them Saints. In addition to the Catholic Martyrs, there are two Catechists from Paimol: Blessed Daudi Okello and Blessed Jildo Irwa who were killed in 1918. The two were beatified by John Paul II on 20 October 2002.
(Jacinta W. Odongo, Uganda Episcopal Conference)
Email: engafrica@vatiradio.va