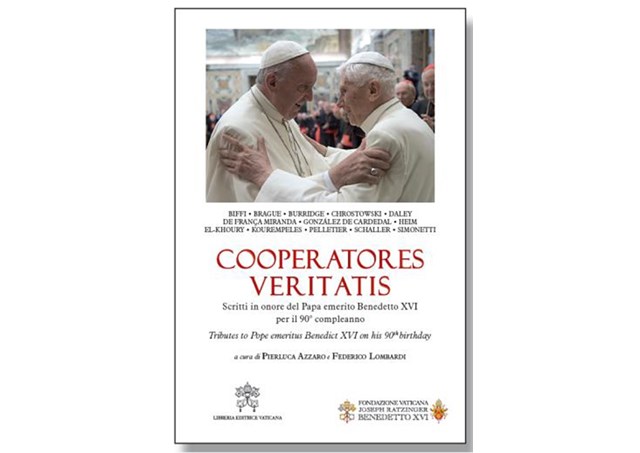 (Vatican Radio) Pope-emeritus Benedict XVI turns 90 years of age on April 16th. To mark the occasion the Vatican Foundation Joseph Ratzinger – Benedict XVI has edited a special festschrift volume of essays by Ratzinger Prize-winning theologians, which was presented on Thursday afternoon at the Augustinianum Patristic Institute of Rome.
Listen to the report by Chris Altieri:
Titled Cooperatores veritatis: Tributes to Pope emeritus Benedict XVI on his 90th Birthday, assembled under the editorship of Pierluca Azzaro and Fr. Federico Lombardi, SJ and published by the Vatican Publishing House, the volume is at once a testament to the profound influence of the thought of the Pope emeritus across intellectual disciplines, and a genuine contribution to scholarship and intellectual endeavour.
Its main title, Cooperatores veritatis is taken from Pope emeritus Benedict XVI's episcopal motto.
In remarks to Vatican Radio ahead of the presentation, the President of the Ratzinger Foundation, Fr. Federico Lombardi SJ, explained that the choice of the motto as the volume's main title encapsulates the life, work, and legacy of the man who became the 264th Successor to St. Peter. "It is a[n episcopal] motto that came from his whole life prior [to consecration as a bishop], and represented his identity, his commitment as a theologian and as a servant of theology in the Church," Fr. Lombardi said.
Joseph Ratzinger was born in the Bavarian town of Marktl on the morning of April 16th, 1927 – Holy Saturday of that year – and baptised the same day. He was ordained a priest in 1951, and was present at the II Vatican Council as a theological advisor to the Cardinal-Archbishop of Cologne, Josef Frings. He became Archbishop of Munich and Friesing in 1977, was made a Cardinal later that year, and participated in the two conclaves of 1978. He came to Rome in 1981 to head the Congregation for the Doctrine of the Faith, and served in that office until the death of Pope John Paul II in 2005, after which Joseph Cardinal Ratzinger was elected to the See of Peter and reigned from April 19th, 2005 until 8:00 PM Rome Time on February 28th, 2013.
In retirement, he lives a live of quiet prayer in a refurbished monastery within the walls of Vatican City.
Cooperatores veritatis brings together contributions from Msgr. Inos Biffi, the French philosopher Rémi Brague, the Anglican Biblicist Richard Burridge, the Polish theologian Msgr. Waldemar Chrostowski, the American Jesuit Brian E. Daley, the Brazilian Jesuit Mario De França Miranda, the Spanish theologian Olegario González de Cardedal, the Cistercian abbot of Heiligenkreuz in Austria Maximilian Heim, the Lebanese scholar Nabil el-Khoury, the Greek theologian Ioannis Kourempeles, the French theologian Anne-Marie Pelletier, the German theologian Christian Schaller, editor of the Opera Omnia of Joseph Ratzinger – Benedict XVI, and the Italian patristics scholar Manlio Simonetti.