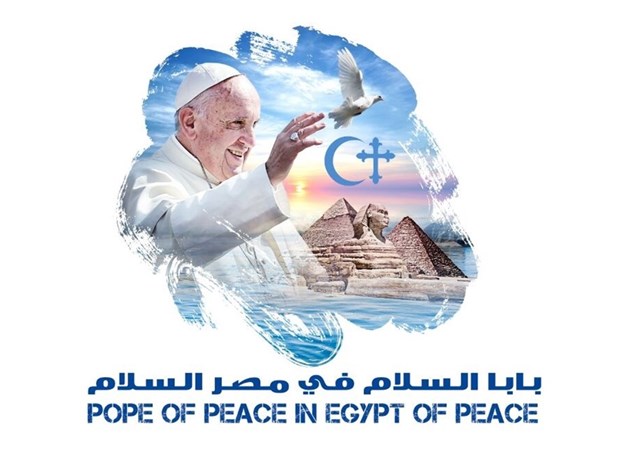 (Vatican Radio)  The Holy See Press Office on Monday released the details and schedule for Pope Francis' Apostolic Journey to Egypt, set to take place on 28-29 April.
Pope Francis will arrive at Cairo International Airport around 14:00 on Friday where he will be welcomed at the Presidential Palace in Heliopolis before making a courtesy visit to the Grand Imam of Al-Azhar.
He will then address participants in the International Conference on Peace before visiting His Holiness Pope Tawadros II.
On Saturday, the Holy Father celebrates Mass and then has lunch with Egyptian bishops. 
His last event in Egypt is a prayer meeting with clergy, religious men and women, and seminarians.
The full programme of the Pope's visit is below:
Friday 28 April 2017
10.45   Departure by air from Rome-Fiumicino airport for Cairo
14.00   Arrival at Cairo International Airport
OFFICIAL WELCOME
WELCOME CEREMONY in the Presidential Palace in Heliopolis
COURTESY VISIT TO THE GRAND IMAM OF AL-AZHAR
ADDRESS TO THE PARTICIPANTS IN THE INTERNATIONAL CONFERENCE ON PEACE
16.40   Meeting with the Authorities
COURTESY VISIT TO HIS HOLINESS POPE TAWADROS II
Saturday 29 April 2017
10.00   HOLY MASS
12.15   Lunch with Egyptian bishops and the Papal entourage
15.15   Prayer meeting with the clergy, religious and seminarians
FAREWELL CEREMONY
17.00   Departure by air from Cairo International Airport
20.30   Arrival at Rome-Ciampino Airport
Time zone:
Rome: +2 h UTC
Cairo: +2 h UTC