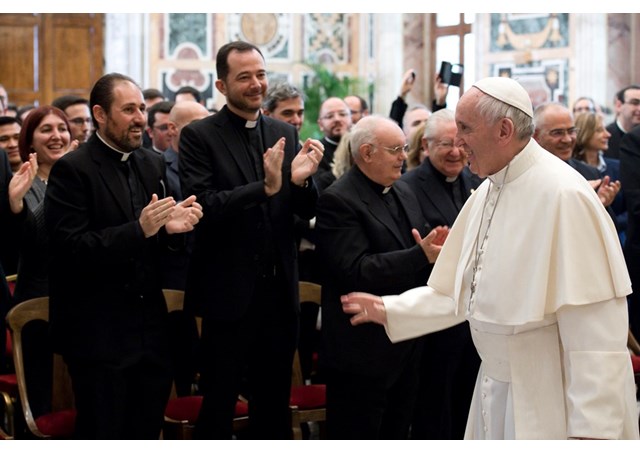 (Vatican Radio) Pope Francis received the students, faculty, and staff of the Pontifical Spanish College of St. Joseph on Saturday, in a special audience to mark the 125th anniversary of the founding of the institution.
In remarks prepared for the occasion and delivered on Saturday morning in the Clementine Hall of the Apostolic Palace in the Vatican, the Holy Father shared a reflection on the three key terms in Jesus' response to the Levite, who questioned him about the greatest commandment: to love the Lord with all one's heart, all one's soul, and all one's strength.
Click below to hear our report
"To love with all your heart," said Pope Francis, "means to do it without reserve and without ulterior motives, without spurious interests and without seeking personal success for oneself."
"To love with all one's soul," he continued, "is to be willing to offer one's life," an attitude the Holy Father said must persist in time, and embrace our whole being.
"To love with all our strength," Pope Francis went on to say, is a command that, "reminds us that where our treasure is, there is our heart," and that it is, "in our little gestures – assurances and signs of affection – that we play out whether we shall say 'yes' to the Lord, or – like the rich young man – turn our back on Him."