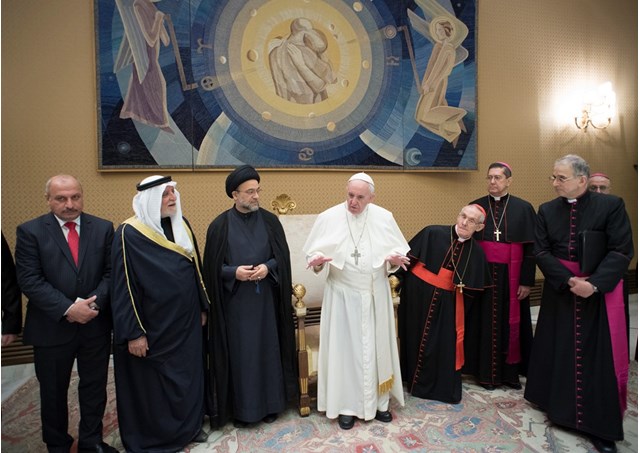 (Vatican Radio) Pope Francis on Wednesday greeted the members of a delegation from the Iraqi Supervisory Boards and the Pontifical Council for Interreligious Dialogue.
Listen to Devin Watkins' report:
"Your visit is a true, fraternal richness, and is, therefore, a path towards peace among all, peace in the heart, in the family, in your country, and in the world," the Pope told the group in a private audience ahead of his weekly General Audience.
The Iraqi Supervisory Boards are made up of Shiites and Sunnis, as well as Christians, Yazidis, and Sabeans/Mandaeans, and are part of a Permanent Committee for interreligious dialogue.
Pope Francis said this expression of dialogue and solidarity is most welcome. "We are all brothers, and where there is brotherhood, there is peace. We are all sons of God."
The Holy Father went on to repeat Cardinal Jean-Louis Tauran's words of greeting to the group.
"We have a common father on Earth: Abraham," the Pope said. "And out of that first 'going forth' of Abraham, we all come together, up until today."
"We are brothers, and as brothers, we are all different and all the same, like fingers on a hand: there are five fingers; all are fingers but all are different. I thank God, the Lord, who helped us all meet here."
In conclusion, the Holy Father invoked a blessing upon those present: "I ask Almighty God to bless you all, and I ask you, please, to pray for me. Thank you."