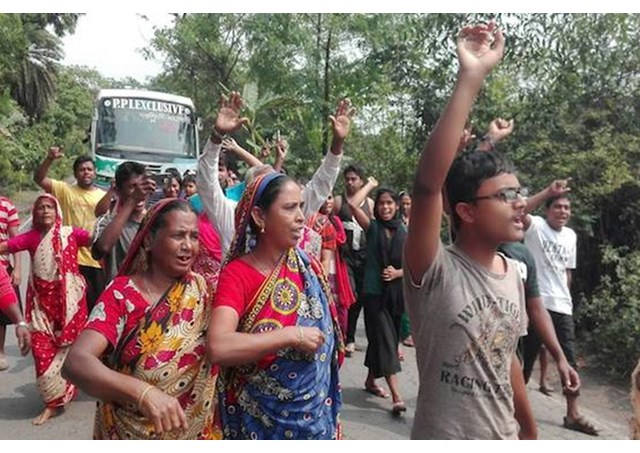 Church leaders have called for an impartial probe and justice after police assaulted Catholics in Bangladesh injuring about 25 villagers.  Four "plainclothes policemen" entered Doripara village under Holy Family Catholic Church in Gazipur district near Dhaka on the night of March 24. They didn't have identity cards or a warrant but they started raiding the house of a local woman.  "When asked what they were doing, they claimed they were policemen but failed to show IDs," Biren Benjamin Gomes, a Catholic eyewitness, told UCANEWS. They looted 5,000 taka (US$63) from the house and raided another home, he said.  "Women started screaming 'robbers, robbers' and hundreds of neighbors rushed to help. They beat up the intruders before elderly men stopped them," Gomes, president of Bhawal Christian Jubo Samity, a Catholic youth forum covering seven parishes in Gazipur and Dhaka.  Then, about 35 riot police, armed with guns and batons, showed up and attacked villagers, he said. Twenty-five villagers were injured in the incident and shots were fired, leaving five in a serious condition, Gomes said.
Doripara is part of the Bhawal region of Dhaka Archdiocese, one of the country's largest Catholic settlements, where consumption of a locally-brewed liquor is customary.  Police have been accused of exploiting the practice to extort money, threatening to arrest them for producing liquor illegally.  Bangladesh Christian Association leaders visited the area and met with victims on March 25. The problems with the police is much broader than the one incident, they say.  "Police have been arresting Catholics arbitrarily and extorting large sums of money. It is true local Christians drink liquor on various occasions but they are not involved in any anti-social activities," forum president Nirmol Rozario said.
Muhammad Alam Chand, officer-in-charge of Kaliganj police station, denied allegations of police misconduct.  "Police are not involved in extortion and the drive against illegal liquor is part of anti-drug operations," Chand told UCANEWS.  On March 24, police were on a "mission to arrest convicted criminals" but clashes started when people resisted, he said.  "Police went to arrest criminals but they resisted so the police took self-defense measures when the angry mob attacked," Chand said. The officer said police filed a case against villagers on March 25 but no one had been arrested. The same day, hundreds of villagers from Doripara took to the streets to call for justice and promised more protests. 
Father Albert Rozario, convener of the Justice and Peace Commission in Dhaka Archdiocese called for an end to police harassment.  "What happened in Doripara is a result of public anger and we demand justice and the end of abuse," he said.   (Source: UCAN)