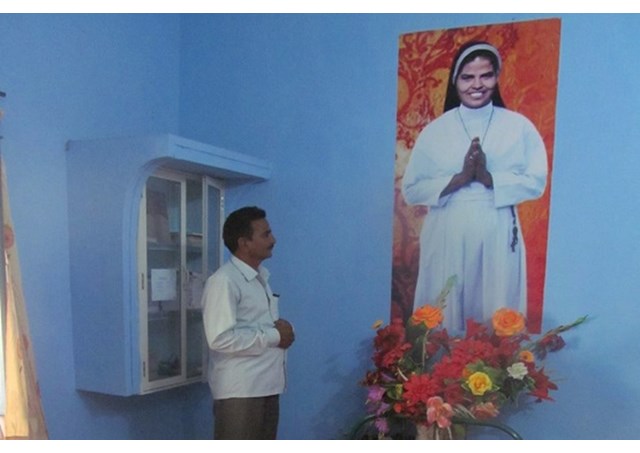 "The upcoming beatification of Sister Rani Maria is a blessing for the Church in India", noted Cardinal George Alencherry, head of the Syro-Malabar Catholic Church based in India, welcoming the news of Pope Francis recognizing the martyrdom of the Clarist nun on Thursday, thus clearing her for beatification.  The date of her beatification ceremony is to be announced later.  The cardinal added that "Pope Francis' decision to declare Sister Rani Blessed is a moment of great joy for the whole Church in India." 
On 25 February 1995 the Franciscan Poor Clare was killed at age 41 with 54 stab wounds by a Hindu radical, Samunder Singh, incited by village leaders who wanted to stop her missionary activity in favor of the tribal poor.  Born in Kerala, the young nun had moved to the Diocese of Indore (Madhya Pradesh) in the service of the local poor population, mostly tribal.  While travelling by bus from Udainagar to Indore, on the way to her home in Kerala, she was stabbed to death on board.  
Along with evangelization work, the murdered nun "also made social interventions to educate and empower ordinary poor villagers" to free them from the clutches of local money lenders and feudal lords, Cardinal Alencherry's office said in a note.  While serving his life term in jail, Samunder Singh repented and sought forgiveness from her family.  "It was remarkable," the cardinal said.
Archbishop Leo Cornelio of Bhopal, in Madhya Pradesh state where the nun was martyred, said the beatification of Sister Rani has once "again proved that the hard work of any missionary will not go in vain."   He told UCANEWS that beatification "will definitely boost the morale of missionaries working in the area" where Christians frequently face violence from extremist groups who accuse church people of trying to convert Hindus.  The nun was killed because she worked to end "bonded labor which is modern slavery," the archbishop said. Her example will "continue to inspire" missionaries to work to uplift the poor, especially in "trying circumstances," Archbishop Cornelio said.  (sOURCE: sOURCE: ucan