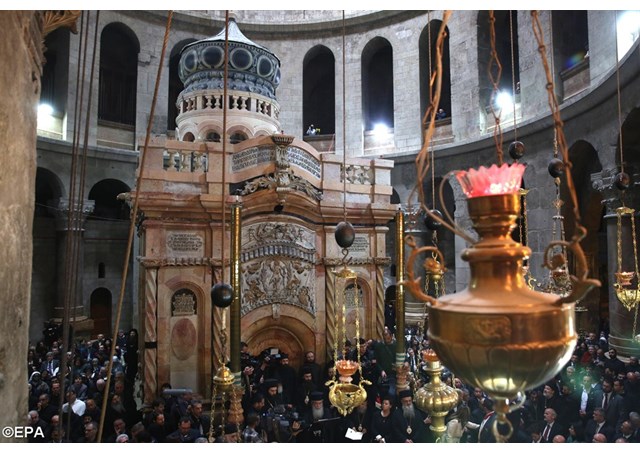 (Vatican Radio) Pilgrims packed into Jerusalem's Basilica of the Holy Sepulchre on Wednesday, one day after the Edicule, or chapel enclosing Jesus' tomb was rededicated following an extensive restoration project.
A team of experts from the University of Athens took less than a year to finish the first phase of work on the ornate chapel, allowing it to be restored to use for the forthcoming Easter celebrations.
Representatives of all the local Christian communities gathered for a simple prayer service in the ancient basilica, alongside special guests including the Ecumenical Patriarch Bartholomew and Greek Prime Minister Alexis Tsipras.
Archbishop Giuseppe Lazzarotto, the Vatican's representative in Jerusalem paid tribute to the "witness of faith, dialogue and respect" of the different Churches charged with maintaining the shrine,  while the Greek Orthodox Patriarch Theophilos III described the newly restored chapel as "a gift, not just to the Holy Land, but to the whole world."
Philippa Hitchen is in Jerusalem with the Tantur Ecumenical Institute and talked to Archimandrite Aristovoulos, principle cantor for the Greek Orthodox Church in the Basilica of the Holy Sepulchre…
Listen: