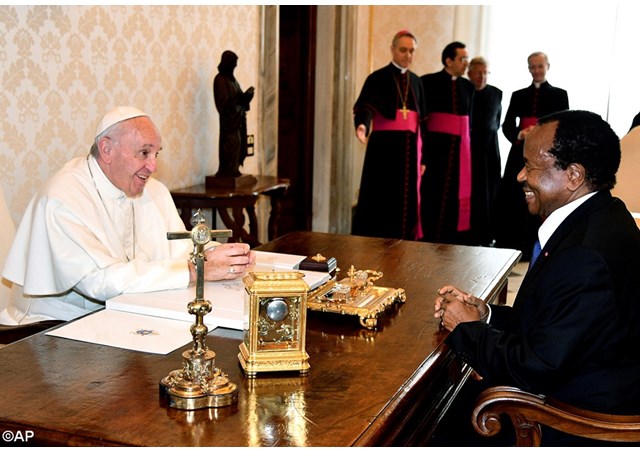 (Vatican Radio)  Pope Francis received Paul Biya, President of the Republic of Cameroon, in a private audience at the Vatican on Thursday.
A communique from the Holy See Press Office said their discussions were "cordial".
"During the cordial discussions, the existing good relations between the Holy See and Cameroon were evoked, as was the important contribution the Church offers to the development of the country, especially in the fields of education and healthcare. Taking into consideration the peaceful co-existence and mutual respect between the various religious groups, attention was focused on the importance of promoting national cohesion, enhancing the richness of the various historic and cultural traditions of the country, with respect for human and minority rights."
The Pope and the president also exchanged "views on some themes of international interest, with particular reference to the current challenges affecting the region".
President Biya subsequently met with Cardinal Pietro Parolin, Secretary of State, who was accompanied by Archbishop Paul Richard Gallagher, Secretary for Relations with States.