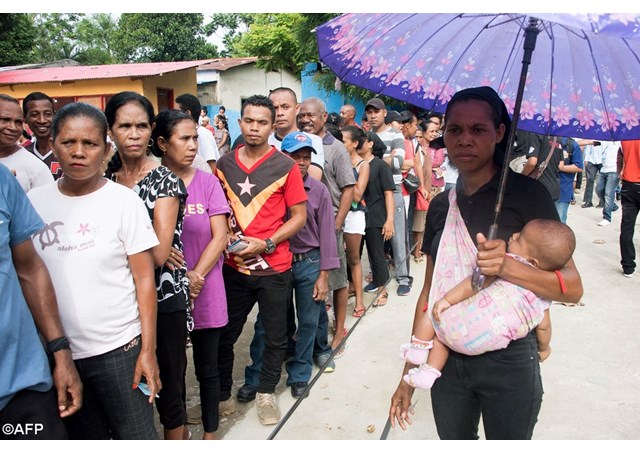 Timor Leste or East Timor voted for a new president Monday in an election that will test Asia's newest and poorest nation.  Francisco ``Lu Olo'' Guterres, a former guerrilla leader from the leftist Fretilin party, was up against seven other candidates. He and the Democratic Party's Antonio da Conceicao, the minister of education and social affairs, were the front-runners. While Timor Leste 's president has a mostly ceremonial role, the prime minister heads the government.
Guterres, 62, lost to current President Taur Matan Ruak in the 2012 presidential election. But in Monday's election, he had strong support from former Prime Minister Xanana Gusmao, a resistance leader who remains influential in politics.   Ruak was not up for re-election and is expected to make a run for prime minister in July's parliamentary elections.
Timor Leste  voted overwhelmingly in 1999 to end 24 years of brutal Indonesian occupation that left more than 170,000 people dead.  Its transition to democracy has been rocky, with its leaders battling massive poverty, unemployment and corruption as the nation continues to recover from the bloody break for independence more than a decade ago.
According to Bishop Virgilio do Carmo da Silva of Dili, the capital, one of the biggest problems of the young nation is unemployment, running at about 11 percent, according to official figures. Many young people unable to find work after graduating from high schools and universities.   "If this is not solved, it will become a serious problem in the next five years, and could cause national instability," Bishop Da Silva told ucanews.com.
Salvador Pereira da Costa, a sociology professor, said the poor quality of education and health services are some concerns the new president should address.  "Timor Leste has a sufficient number of schools, but the quality of education remains poor," he said.  Malnutrition among children is also as a serious problem, particularly in remote areas, due to poverty and also a poor understanding among parents about nutrition.    "The next president must use state funds for the needs of people, even those in the remotest areas of Timor Leste," da Costa said.
More than 740,000 of Timor Leste's 1.1 million people were said to have voted on Monday. While an early quick count will give a reliable indication of the election outcome, official results are not expected until Wednesday.  (Source: AP/UCAN)