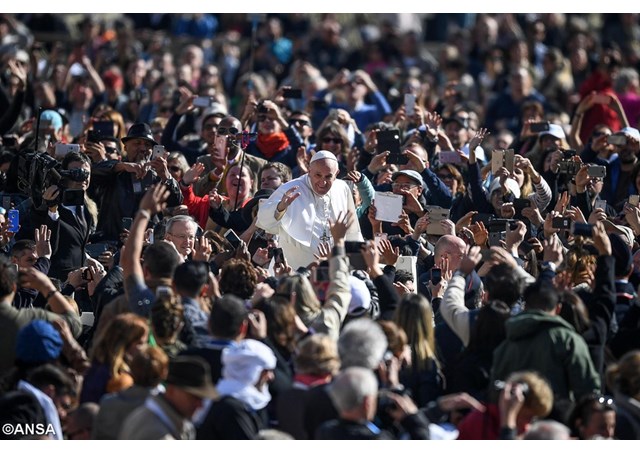 (Vatican Radio) Pope Francis on Wednesday continued his catechesis on Christian hope, focusing on charity, which he said, "is a grace, the fruit of our saving encounter with God's own love".
The Pope was addressing the faithful during his weekly General Audience.
Listen to the report by Linda Bordoni:
To the over 12.000 pilgrims gathered in a sunny St. Peter's Square, Pope Francis said that he who loves has the joy of hope because one day he will be united with the source of all love: the Lord.
Reflecting on readings from Matthew and from Saint Paul, the Pope focused on what he described as our vocation for love and charity.
He warned against the risk of hypocrisy and of a "hypocritical love" which he said, can be tainted by self-interest and urged the faithful to not be tempted to carry out works of charity driven by the desire to put ourselves on show as we seek visibility and approval.
It is important, he said, to remember that love – charity - is a grace; it is a gift that God is happy to give us if we ask for it; it is the fruit of our saving encounter with God's own love.
The Pope said that Saint Paul reminds us that the Lord's grace forgives our sins, heals our hearts and enables us to become channels of his own unconditional love. 
We can become instruments of God's love, he explained, when we allow ourselves to be healed and renewed by the Resurrected Christ, but it is up to us as well:
"The Resurrected Lord who lives with us heals our heart if we ask him to" he said.
He allows us, the Pope continued, to experience the compassion of the Father and to celebrate the wonder of his love: "Thus it is clear that all we can do for our brothers and sisters is in response to what God has done and continues to do for us."
So, conscious of our human weakness, he urged the faithful to ask our Lord daily to renew the gift of his love within us and to enable us to be witnesses of that love to others, especially those in greatest need.  
As always after the catechesis, Pope Francis had greetings for the many groups of people present in the Square. 
As he blessed the crowds he had a special thought and prayer for those from Syria, Lebanon and the Middle East.
The Pope also turned to a group of employees of the Italian branch of the TV platform "Sky" which is undergoing change and downsizing, and expressed his hope for a rapid solution that "takes into account the respect for the rights of all, especially for families".
"Work gives dignity. He who shuts factories and closes companies as a result of economic operations and unclear negotiations,  depriving  men and women from work, commits a very grave sin" he said.