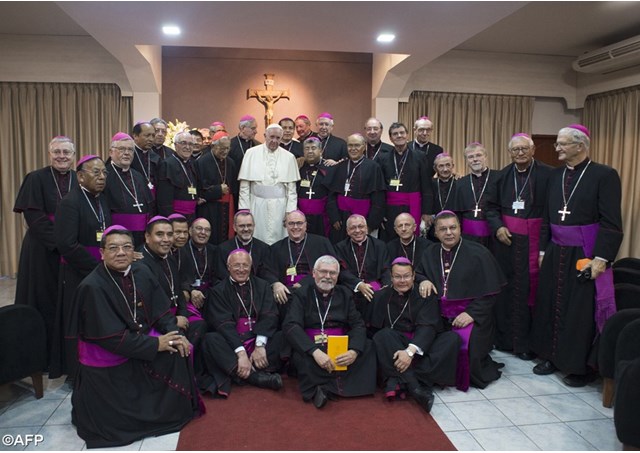 (Vatican Radio) Bolivian bishops have decried a proposed change to the country's penal code that would permit abortion in several circumstances.
The Bolivian Episcopal Conference has appealed to legislators and the whole of society "to defend the right to life, which is seen as seriously threatened by this proposal for reform."
Currently being discussed by the country's Plurinational Legislative Assembly, the amendment would mean abortion could be carried out in the first eight weeks of gestation in the case of there being no resources to bring up the child, or if the mother is a student, or to prevent a risk to the mother's general health.
It also seeks to permit abortion at any stage of pregnancy when there is a risk to the mother's life. Other cases would be when there is a suspected disability, and when a young girl becomes pregnant because of rape or incest. 
"Life is a gift from God and no one can dispose of it under any circumstances," said Bishop Aurelio Pesoa Ribera, the Secretary General of the Bishop's Conference.
"The proposal introduces a foreign ideological colonialization that discards boys and girls born in fragile situations and accepts the sad violence of abortion as a way of providing solutions to social and economic problems.
"As the Church, we cannot accept these premises. The state has the obligation to implement public policies aimed at improving the lives of people and policies of support to pregnant woman, as well as violence prevention."
The proposed amendment would also establish "poverty" as a reason for impunity for crimes such as infanticide and euthanasia. The bishops statement says this would imply "that being poor would be a justification to violate any laws."
The bishops insist that the draft law goes against the Constitution, which establishes the right to life, and against the Civil Code, which recognises this right from conception.
The statement, which is headed by Jesus's words "I have come that they might have life, and have it to the full" (John 10:10), echoes the exhortations of Pope Francis "to protect and guard the most vulnerable and to work for the life and dignity of all, especially the poorest".
(Richard Marsden)