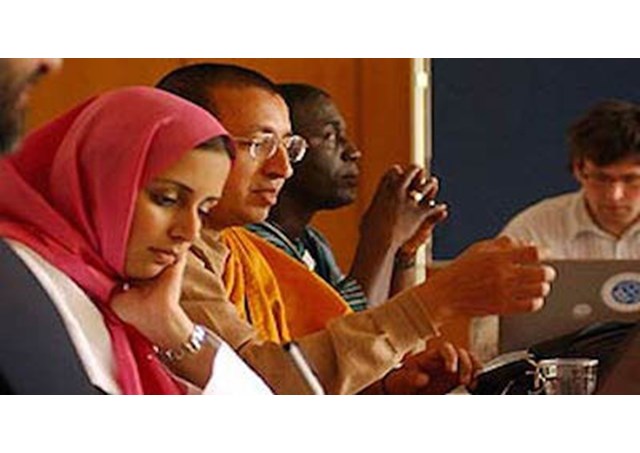 Over 3,000 young people from different religious communities gathered in Semarang, capital of Central Java province, to attend an interreligious meeting, committing themselves to "develop an inclusive attitude and to combat all forms of radicalism and intolerance in Indonesian society". As Fides learns, the meeting was organized on March 5 by the Commission for Ecumenical and Interreligious Affairs of the Archdiocese of Semarang and by five universities (three Islamic, one public, one Catholic). The meeting was attended by young Indonesians from 71 different communities. The meeting was presided by Fr. Lukas Awi Tristanto, secretary of the Commission for Ecumenical and Interreligious Affairs of the Archdiocese of Semarang and was attended by the Mayor of Semarang, Hendrar Prihadi who said: "Those who are not willing to accept diversity, leave Indonesia!"
Speaking to Fides, Fr. Lukas Awi Trisanto said that the interreligious event had the primary purpose of "building true brotherhood and reject intolerance": "Being part of a religious community in Indonesia means to profess one's faith alongside others who profess different religions", he said.
The youth present committed themselves to "love and create harmony in diversity, in order to build the civilization of love for a prosperous society, with dignity, regardless of religious background".
Apart from attempts to continue to build brotherhood and true friendship, the final declaration of the meeting refers to "support the Pancasila, the Constitution of 1945, the unitary State of the Republic of Indonesia and the principle of 'unity in diversity' in the public life of the nation".
Some religious leaders spoke and offered their reflections during the meeting: K.H. Ubaidullah Achmad (Muslim), Father Aloys Budi Purnomo (Catholic), Rev. Tjahjadi Nugroho (Protestant), Pandita Aggadhammo Warto (Buddhist), Andi Tjiok (Confucian), ho Nengah Wirta Darmayana (Hindu), Sumarwanto (indigenous cults).
The Buddhist Warto asked young people to see the differences as a strength for the development of Indonesia; the Hindu Darmayana said that "the unity of Indonesia is realized when Indonesian people nurture mutual respect". According to Achmad, "a religion that ignores diversity is not a true religion"; Tjahjadi asked young people to "thank God and pray so that Indonesia can survive radicalism, terrorism and intolerance"; Sumarwato believes that intolerant people "are those who have not understood the essence of the universal divinity"; Father Purnomo stressed the need "to build true brotherhood and a society where there is well-being, dignity and peace, regardless of the faith of each person".
(Source: Agenzia Fides)