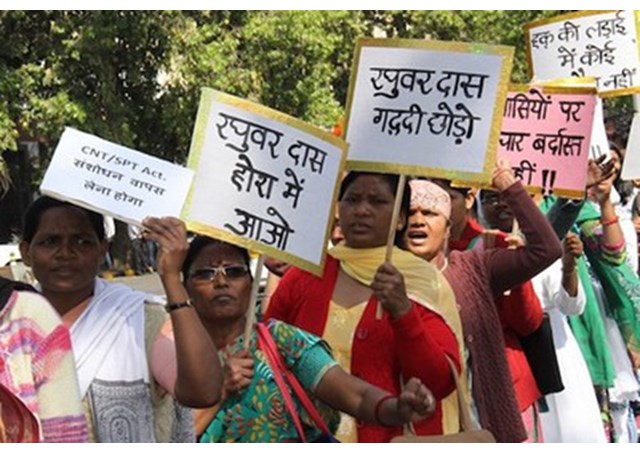 Tribal people from the eastern Indian Jharkhand state have been campaigning for the governor to reject amendments to laws that they say adversely affect their culture and existence.
They are angry about land law amendments made in November that allow Jharkhand state to take their lands for welfare and industrial projects. The amendments are now awaiting state governor Droupadi Murmu's assent to become law.
Some 3,000 tribal people marched through the streets of New Delhi and converged near parliament on March 6. "It is high time tribal people came together and fight because the changes challenge our identity and culture," Nabore Ekka, president of Jharkhand Adivasi Sangharsh Morcha Delhi region, told ucanews.com.
Ekka's organizations, along with Jharkhand's opposition political parties, organised the rally and demonstration to attract national attention to what they call their state government's anti-tribal policies. Delhi Archdiocese supported the rally and requested Catholics to attend.
Father Savarimuthu Sankar, spokesperson of Delhi archdiocese told ucanews.com they the archdiocese encouraged people to join in the protest "because the church is always in support of the rights of Dalit, tribal and other such disadvantaged people. This case is no exception," he said
"The Church will always stand by such people in their fight for their rights," Father Sankar said. Cardinal Telesphore Toppo of Ranchi also met Murmu in the Jharkhand state capital Ranchi on March 4 to talk about the amendments.
The amendments were a major point of discussion during the first national consultation of India's tribal Catholic bishops in Ranchi on Feb. 23-24. The bishops decided to support the struggle for land and suggested systems to monitor any policy decisions that might affect tribal people.
"Our people are very innocent and honest and the sectarian forces know the tricks to exploit it," said Cardinal Toppo, India's first tribal cardinal, during that consultation that was attended by 11 tribal bishops.
Jharkhand has some 9 million tribal people who form 26 percent of the state's 33 million population. About 1.5 million people in the state are Christians, at least half of them Catholics.
The change in laws will help government take over vast lands for mining and other industries in the mineral rich state, leading to a dwindling of tribal habitation. This will lead to migration and the destruction of tribal culture and existence, said Father Vincent Ekka, a tribal researcher at New Delhi's Jawaharlal Nehru University.

Although tribal people are considerably high in population and dominate certain pockets, they have failed to become politically significant, Father Ekka said. This leaves them vulnerable to exploitation.
He said that politically-motivated groups are dividing the tribal people along religious lines: the Christians from the non-Christians, in order to stop them from uniting. "They make false promises of development but their hidden agenda is to loot from tribal people and gain more political and financial power," he said.
Salkhan Murmu, former parliamentarian and head of Jharkhand Sengel Abhiyan (campaign to empower Jharkhand), opposed the state government's move to amend Chotanagpur Tenancy Act and Santhal Paragana Tenancy Act. He has urged the tribals of the eastern Indian state to treat legislators from their community as traitors for supporting amendments to land laws.
"These amendment bills would never have been laid in the state Assembly without the consent of Tribal Advisory Council," Murmu told a rally in Simdega, a town in Jharkhand on March 9.
The council, he explained has 20 members, including the state chief minister, who is a non-tribal. "Of the 19 tribal members, 15 are MLAs. Had they honestly opposed the amendment proposals, chief minister Raghubar Das would never have been able to do anything," Murmu told the meeting held at the Albert Ekka Stadium in Simdega.
Bishop Vincent Barwa of Simdega, chairperson of the Catholic bishops' conference's tribal affairs office, shared the dais.
The government claims the amendments would enable tribals to make non-agriculture use of their land without losing ownership rights. However, the Church and some tribal outfits say the amendment would allow corporate firms and business groups to exploit Jharkhand's mineral rich tribal lands.
"The tribal MLAs should have resigned en masse if Raghubar Das refused to listen to them. It would have automatically led to the fall of Raghubar Das government and amendment bills would not have been passed by the assembly. They (tribal MLAs) are the real traitors. They ought to be taught a lesson. Raghubar Das cannot be blamed alone," Murmu said.
(Source: UCANews.com; MattersIndia.com)