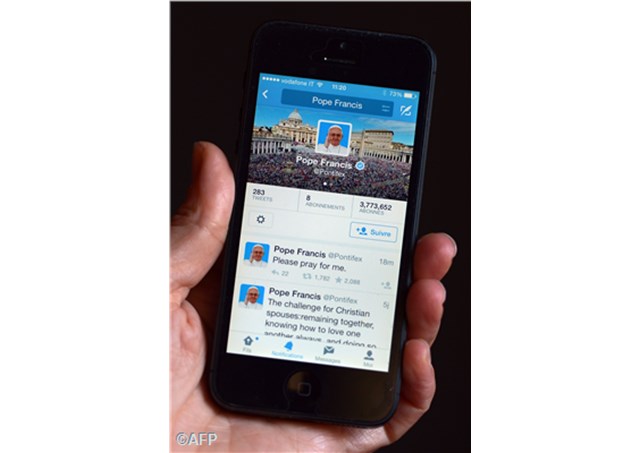 (Vatican Radio)  A one-day workshop was held on Friday in the Vatican on 'Twitter Diplomacy at the Holy See'. The event was hosted by the Vatican Secretariat for Communications (SPC), in conjunction with the British Embassy to the Holy See.
Participants in the workshop included Britain's Ambassadors to the Holy See, Sally Axworthy, and to Austria, Leigh Turner, along with Hungary's Ambassador to the Holy See, Eduard Habsburg, and Professor Giovanni Maria Vian, Director of the Osservatore Romano.
Pope Francis touches minds and hearts on social networks
"Where people are, the Church is. This is why the Pope is present on Twitter and Instagram." That was the explanation given by the SPC's Secretary, Msgr. Lucio Adrian Ruiz.
The event brought together diplomats and other personalities who, in the Vatican and the Church, seek to spread the message of the Gospel through social media, especially on Twitter.
Workshop participants shared their experiences and the ways in which communications have changed after the spread of social networks – even at the institutional level.
Participants gave particular attention to the positive role offered by Pope Francis daily through his account @Pontifex, which is followed by more than 32 million people in 9 languages.
They called the Pope a leader on social networks, because he knows how to touch minds and hearts through his interventions on important themes for all people, believers and non-believers alike.
Digital media holds an ever more important role in diplomacy
Sally Axworthy, Britain's Ambassador to the Holy See, told Alessandro Gisotti after the event that the digital dimension is assuming an ever greater role in diplomacy. She said there are many points on which, even via Twitter, that the Holy See and international diplomacy can find a way to collaborate.
Ms. Axworthy also underlined that, as Pope Francis has eloquently shown, social networks can help reach an extremely wide public on themes of common interest.