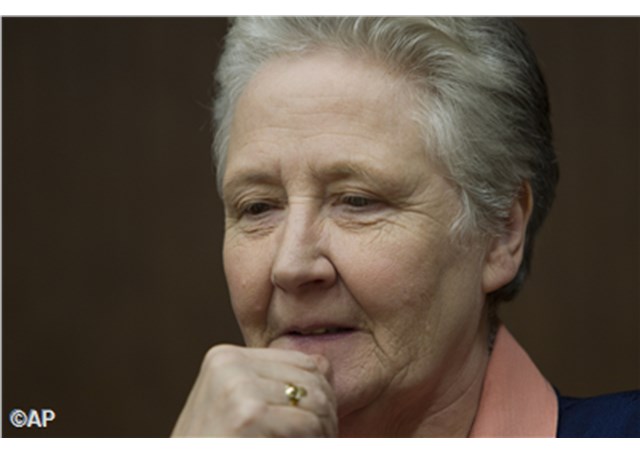 (Vatican Radio) The Vatican announced on Wednesday that a member of the Pontifical Commission for the Protection of Minors, Irish abuse survivor Marie Collins, has resigned from her position.
She had been a member of the Commission since it was established by Pope Francis in 2014. In her resignation letter to the Pope, she cited frustration at the lack of cooperation with the Commission by other offices of the Roman Curia.
In a statement, the president of the Commission, Cardinal Sean O'Malley of Boston, said Marie's concerns would be listened to carefully and discussed at next month's plenary meeting. He said she will continue to work with the Commission on training programmes for new bishops and for other offices of the Holy See.
To find out more, Philippa Hitchen spoke to Marie Collins about her decision and about her hopes for the future work of the Commission
Marie says there have been struggles in the past but the Commission worked to overcome them. Recently, she says, there was "a specific refusal from a department of the Vatican that I felt was just unacceptable".  She adds that "if there are men still in positions in the Vatican who are not willing to work and cooperate with this Commission", then as a survivor she felt she had to leave.
Marie insists that she still supports her colleagues who are "working very sincerely and very hard", as well as Pope Francis who "has been behind the Commission all the way".  
Asked about the specific difficulty which motivated her decision, she said it was in regard to developing safeguarding policies which bishops conferences around the world can use as a template for drawing up their own policy documents.
Marie says a way needs to be found to show those who are resisting "that the Commission is not coming in from the outside to interfere, or to take over their work". The Commission's objective, she insists, is "to work together and go forward, using resources of both groups to move forward for the protection of children".  
She finds it "heartbreaking" that some people "find that difficult, in 2017, when we know the history that is there, and we don't want to repeat it". But she stresses she trusts her colleagues: "I know the Commission will succeed and maybe anyone who has been resisting will open their minds and realise that we're all working for the same thing".
Survivors' voices must continue to be heard, Marie believes, whether by adding new members to the Commission or by inviting others to talk to the group. She notes that last year she worked on training sessions with bishops, and with some Curia departments. She hopes to continue with this work because it's very important that men who are "open to learning and open to trying to understand more about abuse" are able to hear and to share the experience of a survivor.