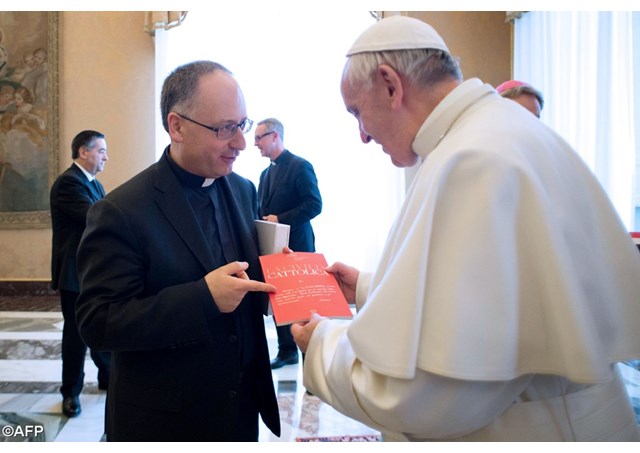 (Vatican Radio) The British ambassador to the Holy See, Sally Axworthy, has hosted an official launch for the English edition of the prestigious Jesuit journal 'La Civiltà Cattolica'. Founded in 1850 and originally available only in Italian, the magazine will now be published monthly in English, French, Spanish and Korean as well.
In a recent meeting with the editors, Pope Francis said their writing must not just defend Catholic ideas, but must rather witness to Christ in the world with a restless, open-ended and imaginative spirit. He urged them to build bridges with people on the margins of society, saying the new language editions would serve to broaden their horizons and enter into dialogue with people in different parts of the globe.
At the launch on Tuesday evening, Philippa Hitchen caught up with the journal's editor in chief, Jesuit Father Antonio Spadaro to find out more:
Fr Spadaro explained that 'La Civiltà Cattolica' started out in an international context in 1850, before the unification of Italy, but  became an Italian national publication in 1861. "Now we felt a push to spread our content in different contexts", he said, "because the Pope asked us to be bridges."
He said the journal will now receive articles in different languages which can be translated into other languages as well, making 'La Civiltà Cattolica' into a platform , "a real spiritual and cultural bridge among different nations, cultures and languages"
Fr Spadaro, who is also widely known for tweeting about the activities of Pope Francis and the Holy See, said there is a need, both for long articles that "go deeper into a subject matter" but also for "wisdom that can be received" while we are at work or travelling.
"So I think there is no contradiction between a long, profound article and profound wisdom condensed in a tweet," he said.
Certified by the Vatican
Asked about the need for all the journal's articles to be approved before publication, Fr Spadaro says this is not censorship but rather a way of being "in tune to what the Holy See thinks about different matters", including politics, economics, the arts, philosophy and theology.
He says that since he took over as editor in 2011 he has been able to engage in "a deep, interesting talk" with officials at the Secretariat of State to "develop a real dialogue about the articles we write".
"We feel very close to what the Pope thinks", he says, but at the same time the revision of the review at the highest level gives the journal  a unique authority as it has been "certified by the Vatican".
Popes 'proofread' publications
The relationship between the publication and the Holy See has been so close that up until the pontificate of John XXIII, it was the popes themselves who used to 'proofread' all the articles.  Now Fr Spadaro says the Jesuit writers continue to maintain "a deep relationship" with Pope Francis and "with his own way of thinking."
"So we are loyal to him and our effort and our challenge also is to be tuned with his Magisterium," Fr Spadaro says. He concludes by admitting that it "was a great honour" when Pope Francis told the writers he keeps a copy of "this ancient and prestigious" publication on his desk.