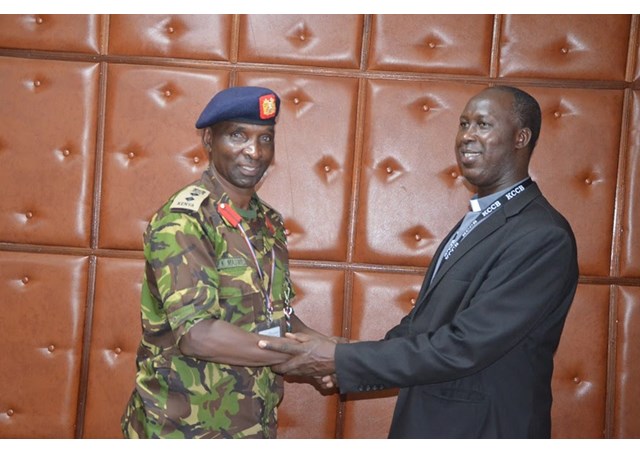 The Holy Father Pope Francis on 30 December 2016 appointed Very Rev. Fr. Benjamin Kituto Maswili as the Apostolic Administrator of the Military Ordinariate in Kenya.
In a recent interview, Fr. Maswili, expressed gratitude to Pope Francis for entrusting him with the responsibility. He also thanked the Bishops of Kenya for their support.
Fr. Maswili said his immediate undertaking is to offer spiritual and psychological support to the Kenya Defence Forces (KDF) and their families affected by the attacks and killings at the hands of al-Shabaab militants while on peacekeeping mission in Somalia.
 "We need to train more Catechists and priests to help in counselling affected families of fallen soldiers and those of wounded soldiers to be able to live normal lives again," He said.
He added that he would promote the Pontifical Society of the Missionary Childhood or Holy Childhood amongst the children of the military forces and encourage the association to be embraced in families.
Until his appointment by Pope Francis, Fr. Maswili who is a Religious priest from the Congregation of the Apostles of Jesus was the Principal Chaplain in the Military Ordinariate.
The position of Apostolic Administrator to the Military Ordinariate fell vacant in 2013 following the retirement of Bishop Alfred Rotich who attained the retirement age of 55 years required in military service.
Born on 25 January 1964, Col Dr Fr. Benjamin K. Maswili holds a Doctorate in Theology with a specialisation in Sacred Liturgy. 
 (Rose Achiego in Nairobi)
(Email: engafrica@vatiradio.va)