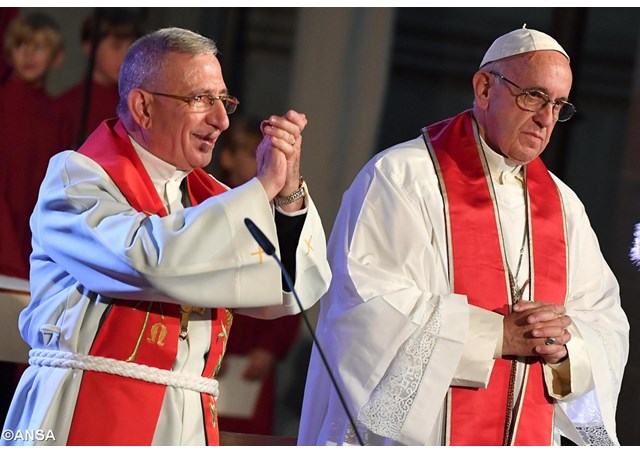 The Lutheran Bishop for Jordan and the Holy Land, Munib A. Younan has been declared the winner of the 34th Niwano Peace Prize, for the perseverance  and  compassion  he has shown in his work  to  encourage  dialogue  between  interreligious  groups  in  the  Holy  Land.  "His  work  emphasizes  peace  over  power  and  unity  over  domination," the Tokyo-based Niwano Peace Foundation said in a statement in announcing the winner.  The  Niwano Peace Prize, that includes an award certificate, a medal and prize money of 20 million yen, will be presented at a ceremony  in the Japanese capital, Tokyo, on  27 July.
The Niwano Peace Foundation was initiated by the Japanese citizen Nikkyō Niwano, founder of the Buddhist lay organization Risshō Kōsei Kai, who was one of the few non-Christian observers at the Second Vatican Council. His son, Nichiko Niwano, is his successor as chairman of the foundation, which is dedicated to interreligious dialogue and peace.
Born in Jerusalem, the 66-year old Bishop Younan has been president of the Lutheran World Federation since 2010.  He played host Pope Francis in the Lutheran Cathedral of Lund, Sweden on Oct. 31, 2016, on the occasion of the start of the celebrations of 500 years of Protestant Reformation, initiated by Martin Luther.  At Lund, Bishop Younan and Pope Francis signed a Joint Statement  whereby Catholics and Lutherans pledged to pursue their dialogue towards full unity and committed themselves to work for the poor, the needy and the victims of injustice.
During his long career Bishp Younan has held numerous positions in Lutheran organizations and interreligious – he was also president of the Lutheran Council in Asia - and used his position to create a fully-fledged network among religious leaders of different faiths in the Middle East .
Bishop Younan was one of 14 religious leaders who signed the Declaration of Alexandria in 2002, a document in which rabbis, sheikhs, and bishops assured their commitment to establish peace in the Holy Land, which is holy for all three monotheistic religions.