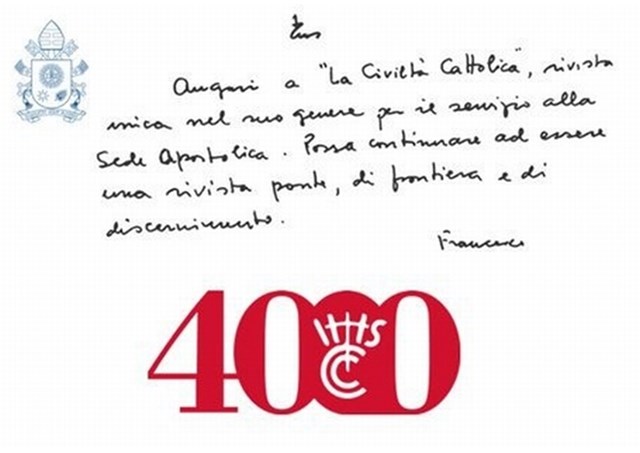 (Vatican Radio) Pope Francis met on Thursday with Jesuits who write for the 'Civiltà Cattolicà' magazine, currently celebrating its 4000th edition. Founded in 1850 and originally available only in Italian, the publication is now adding editions in English, French, Spanish and Korean.
As well as sending the writers a hand-signed note, the Pope reflected at length on the importance of poetry, art and pioneering intellectual research, as the magazine seeks to build bridges with many peoples and cultures.
Listen to Philippa Hitchen's report:

Your writing must not just defend Catholic ideas, but must witness to Christ in the world with a restless, open-ended and imaginative spirit.  That's was the Pope's message to his Jesuit colleagues as he encouraged the work of this "ancient and precious" publication, a copy of which, he confided, "is often on my desk".
Remain on open seas
Describing the Civiltà Cattolica's long history as a boat's voyage on the open seas, the Pope told its current contributors never to be afraid of the storms, but to proceed courageously, guided by the Spirit, into uncharted waters.
He noted how the magazine has always had a particular link to the popes of the past century and a half, starting with Pope Pius IX who approved the original statutes in 1866. Since then, he said, the publication has been the expression of a group of writers who share not only their intellectual experiences, but also a charismatic inspiration and daily life together in the community where they live.
Mission to the frontiers
All Jesuits, Pope Francis continued, are called to carry out their mission on the frontiers and margins of society, in a spirit of dialogue and discernment. Civiltà Cattolica, he said, can help build bridges across those frontiers, with the new language editions serving to "broaden your horizons" and enter into dialogue with people in different parts of the globe.
Restlessness
The Pope focused on the need for Catholic writers to be restless, reminding them that Christian traditions are not rare treasures to be locked away in a museum display case. In this restless spirit, he said, they should draw inspiration from the French Jesuit St Peter Faber, co-founder of the order and a pioneer of ecumenism in the 16th century.
Openness
The second quality he urged them to strive for was that of openness in order to face the challenges of a world caught in a crisis of mediocrity, relativism, rigidity and a throw-away culture. Only an open-minded spirit, like that of the pioneering Italian Jesuit Matteo Ricci, who helped bring Christianity to China, will be able to confront the complex political, economic and humanitarian crises of our world, beginning with the drama of global migration.
Imagination
Finally Pope Francis urged the writers to be imaginative, like the versatile Jesuit painter and architect Andrea Pozzo. Reflecting on the importance of poetry, painting and other art forms, the Pope said the Church must rediscover its human genius, helping us to see that life is not black and white, but rather a colour painting with subtle shading. Use your imagination, he concluded, to remain flexible, with a sense of humour, a merciful heart and an interior freedom.