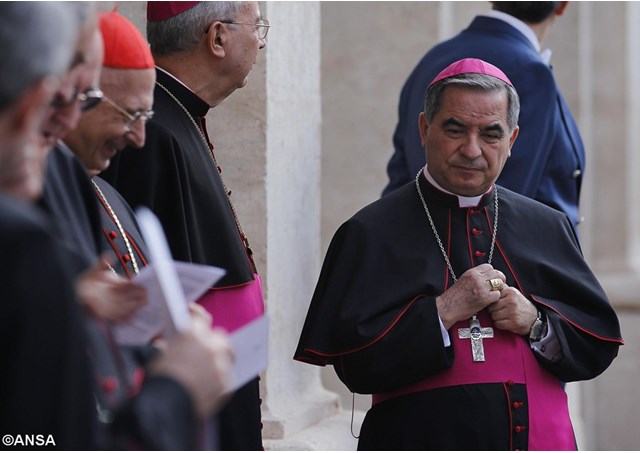 (Vatican Radio) Pope Francis has named Archbishop Angelo Becciu as his personal special delegate to the Sovereign Order of Malta.
In a letter Saturday addressed to Archbishop Becciu, Substitute of the Secretariat of State, the Pope gives him "all necessary powers" to help the Order reform its Constitution and elect a new leader.
Naming Becciu "as my special delegate to the distinguished Order" of Malta, the Pope emphasized that he will work in "strict collaboration" with the Order's interim leader, Fra' Ludwig Hoffmann von Rumerstein.
The two of them, he said, must work for "greater good of the Order and for the reconciliation among all its components, religious and lay." Additionally, they will be responsible for developing together "a study in view of the appropriate spiritual renovation" of the Order's Constitution.
Pointing to Becciu's role in particular, the Pope said he will be charged with caring for "everything related to the spiritual and moral renewal of the Order, especially the professed members."
"You will be my exclusive spokesman" in everything relating to relations between the Order and the Vatican" and "I delegate to you, then, all the necessary powers to determine any issues that may arise concerning the implementation of the mandate entrusted to you" the letter said.
Becciu's mandate will end with the conclusion of the extraordinary Council to elect a new Grand Master, after the former, Matthew Festing, resigned last month upon the request of Pope Francis.
The appointment of Becciu falls shortly after Festing's resignation on January 24 from his position as Grand Master at the request of Pope Francis, and the reinstatement of ousted leader Albrecht von Boeselager as Grand Chancellor.
The "Council Complete of State" to elect a new Grand Master must be held within three months of the former's resignation or death.
Though no dates have yet been set, at a press conference highlighting the Order's priorities this week, Boeselager said the council is expected to take place in late April.
The Sovereign Order of Malta is a chivalric order which was founded in 1099, originally to provide protection and medical care to Holy Land pilgrims. It now performs humanitarian work throughout the world, and its two principle missions are defense of the faith and care for the poor.
It maintains sovereignty, holding diplomatic relations with more than 100 states and United Nations permanent observer status.