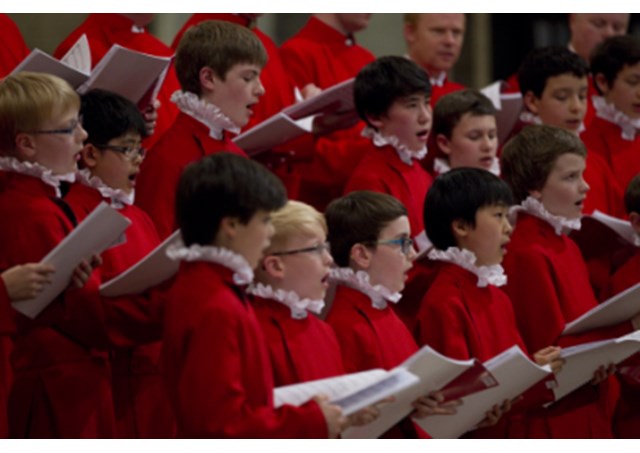 (Vatican Radio) Pope Francis on Wednesday afternoon presides at Vespers in the Basilica of St Paul Outside the Walls for the closing of the annual Week of Prayer for Christian Unity. On that occasion, the Sistine Chapel choir will be joined by the men and boys of the Westminster Abbey choir, renowned as one of the finest choral music groups of its kind.
Ahead of this unprecedented event, pioneered by the two choirs are also performing a free concert on Tuesday evening in the Basilica of St John Lateran. Their collaboration grows out of recent years of deepening Anglican-Catholic relations, in particular following Pope Benedict XVI's visit to London in September 2010.
To find out more about this musical collaboration and about the history of the Westminster Abbey choir, Philippa Hitchen spoke to the Dean of the Abbey, the very Reverend Dr John Hall, and to the only full time English singer with the Sistine Chapel choir, Mark Spyropoulos.
Dr Hall explains that while the abbey was founded in the year 960, the choir came into existence in the 14th century to sing in a newly built chapel of the abbey dedicated to Our Lady. When the Benedictine monks, who founded the abbey, left in the wake of the Reformation, the lay men and boys of the choir remained and have been singing for daily services there ever since.  
Today the choir is made up of 12 adult singers, known as lay vicars and some 30 boys who are educated in the adjacent abbey choir school.
The partnership with the Sistine Chapel choir traces its origins to the September 17th 2010 visit of Pope Benedict XVI to the abbey for Evensong, a liturgy which he said he enjoyed very much. That was followed by a visit of the Dean to Montecassino in 2011 and on the feast of Saints Peter and Paul on June 29th 2012, the abbey choir came to Rome as the first choir to sing together with the Sistine Chapel choir.
Mark says these exchanges have been hugely important for the Sistine Chapel singers, including their 2015 visit to Westminster Abbey to sing choral Evensong for the first time ever.
Marks notes that the Sistine choir has also sung with Lutheran choirs and with the Orthodox Patriarchal choir from Moscow. He says this cooperation is "a very important and very welcome part of our work" because "when we sing together it's the most beautiful expression of our Christian faith".
Dr Hall says that when the abbey choir sang inside the Sistine Chapel in 2012, Cardinal Bertone, the former Vatican Secretary of State and he both underlined that it was a "really important moment in ecumenical relations". He says it shows that "we've moved from sitting opposite each other……..to walking and singing together", ensuring that the necessary theological dialogue can be "set in a context of friendship, collaboration and above all…..of worshipping together".