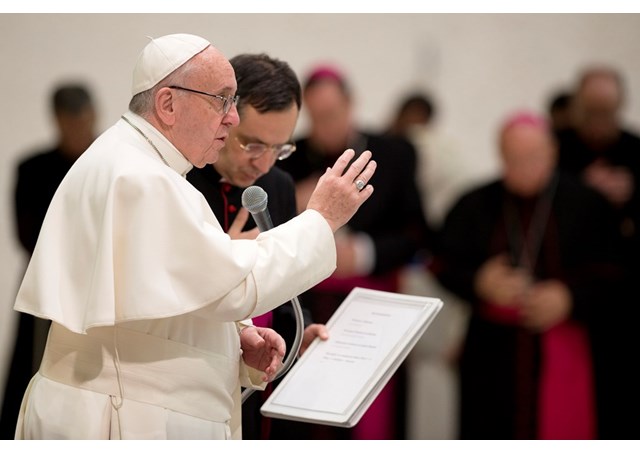 (Vatican Radio) "The Mafia is an expression of the culture of death that is opposed to the Gospel." Those were Pope Francis' words to members of the Italian National Antimafia and Antiterrorism Directorate who he received on Monday in the Vatican.
Meeting with the Italian National Antimafia and Antiterrorism directorate in the Vatican on Monday, Pope Francis expressed his appreciation for the difficult and risky work they do in the fight against organized crime and terrorism.
He told those gathered that society needed to be healed from corruption, extortion, the illegal trafficking of drugs and arms, and the trafficking in human beings, including children.
The Pope also commended both groups for their law enforcement activities in collaboration with other states saying that, this work carried out in synergy was important for a secure society.
During his address, the Holy Father urged them in particular  "to devote every effort especially in combating trafficking in persons and the smuggling of migrants:" these, he stressed, "are serious crimes that affect the very weakest."
Those, he said, "who flee their countries because of war, violence and persecution are entitled to find suitable welcome and suitable protection in countries that call themselves civil."
Pope Francis also spoke about the importance of educational initiatives aimed at the younger generation in a bid to, as he put it, "foster a consciousness of morality", that wins over evil and promotes a social fabric that is open to the hope of a better world.
Concluding his address, the Holy Father, noting again the directorates' hazardous work to combat corruption, the Mafia and violence, prayed that the Lord would always give them the strength to continue, and not be discouraged.
The Pope described the Mafia, "as an expression of a culture of death, which is radically opposed to faith and to the Gospel which always promotes life and he prayed that God would touch the hearts of the men and women of the various mafias, so that their lives would be converted and they would cease to do evil.