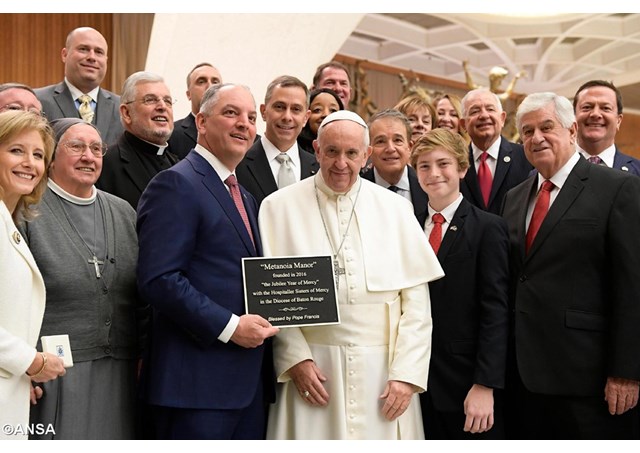 (Vatican Radio) A delegation from the U.S. state of Louisiana was among the special guests meeting with Pope Francis during his general audience on Wednesday. Led by Governor John Bel Edwards, the delegation asked the Pope to bless the pioneering work that is going on in Louisiana to prevent human trafficking and to protect victims who've been trapped in this modern day slavery.
That work includes special training for police officers and the opening of a shelter for sixteen young women in a secure location near the city of Baton Rouge.
To find out more about the project Philippa Hitchen spoke to Governor Edwards and to Fr Jeff Bayhi, pastor of St John the Baptist Catholic Church in Zachary….
Fr Bayhi was inspired by the tireless anti-trafficking efforts of Italian Consolata Sister Eugenia Bonetti, whose passion, he says "is contagious". He explains that the Louisiana initiative has brought together the governor, state agencies, law enforcement, legislators and senators , alongside 'Metanoia', the umbrella group for the project which he founded. "It's been an incredible opportunity to see a state reach out and say 'slaves no more', we need to care for these kids" he says.
Governor John Bel Edwards says that Louisiana was a "hotbed" of human trafficking activity, partly as a result of some 15 million tourists that come primarily to New Orleans each year. The situation is also impacted by the "interstate" highway that runs from California to Florida, passing through southern Louisiana.
"It's really a tragic circumstance and we have to really do much better in Louisiana and around the country," the governor insists. However, numbers of trafficking cases are dropping because of the Metanoia shelter initiative.
Speaking about setting up the house, Fr Bayhi says it will provide shelter for 16 children at a time, allowing them to "feel safe and secure, give them some sense of worth" as well as providing them with life skills to enable them to find other ways of earning a living. Sr Eugenia has helped by sending four sisters who will take care of the young survivors, together with other local professionals.
Fr Bayhi talks about Pope John Paul II's writings on the "culture of death", saying that human trafficking "is one more step in the devaluation of the dignity and the sanctity of human life." He also has a stark warning for male consumers of the human trafficking industry, saying they create "a deficit in the dignity of human life."
"If anyone thinks that internet porn is victimless," he insists, "someone is there making those kids do that stuff. They are not there voluntarily and you're paying the money that makes it worth while to kidnap these kids and force them into that. You may have never picked up one of these children on a roadside but you make that possible".
"If we want to fight this," Fr Bayhi concludes, "we have got to destroy the market that allows human life to be so denigrated. And if you have any part in that, you're part of the problem. We invite you to be part of the solution."
Find out more about the project on the Metanoia website: metanoia-inc.org