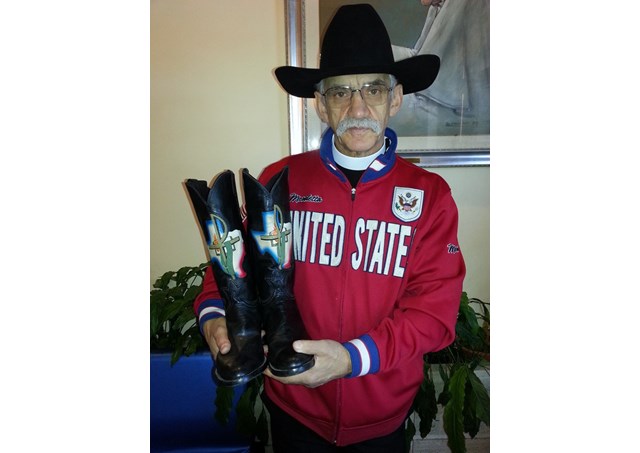 (Vatican Radio)  "He made boots for the Pope and was released from prison." This is the story of Bobby Penny, the first inmate taken under the care of Deacon Thaddeus Horbowy, a retired chaplain for the US Federal Bureau of Prisons.
Deacon Horbowy told Devin Watkins the story of the pair of Texan boots during a recent trip to Rome.
Listen to their conversation:
"Bobby Penny was my first inmate. He walked into my office and said, 'Chaplain, I've been sent here by the warden to work as your helper.'"
The encounter took place in Abilene, Texas some 25 years ago at a prison facility which houses 3,000 inmates. Deacon Horbowy said he noticed that Mr. Penny was "somehow different; he didn't have an attitude". 
Having worked well together for several years, Deacon Horbowy was promoted and moved to another prison in Texas but was allowed to have Bobby Penny transferred with him. 
Despite being trained only in boot repair, Deacon Horbowy told Mr. Penny to make him a pair of boots, saying "You've got plenty of time. Learn it!" The result was impressive, he said.
After retiring, Deacon Horbowy was invited to come to Rome for Pope Francis' Jubilee audience for Deacons. Not long before his pilgrimmage, Deacon Horbowy saw Mr. Penny in the Texas prison and asked him to make a pair of boots for the Pope. 
Despite resistance from the prison's warden, Mr. Penny was able to make the boots. Not long after their meeting, in a development which may or may not be related, Deacon Horbowy received a letter from Mr. Penny announcing he had made parole and was released from prison.
During his recent trip to Rome, Deacon Horbowy brought that pair of boots in hopes of presenting them to Pope Francis as a gift.