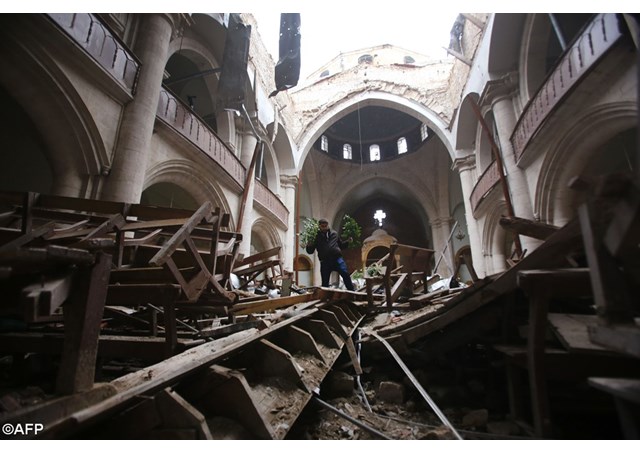 (Vatican Radio) The leader of Syria's Catholic Church has urged the West and the United Nations to immediately end sanctions against his country and to stop supporting rebels, saying this is the only way to find a solution to a war that has claimed hundreds of thousands of lives. Ignatius Ephrem Joseph III Younan made the comments in an interview with Vatican Radio in Budapest, Hungary, where he also thanked Pope Francis for his prayers. 
Listen to the report by correspondent Stefan Bos: 

The patriarch is a man on a mission. After giving a lecture at Budapest's Pázmány Péter Catholic University he was to meet Hungarian Prime Minister Viktor Orbán and expected to discuss how Hungary can support persecuted Christians. 
He also wants Hungary to pressure the European Union and U.N. to end the war in his home country. 
"I still hope that the Western  countries, that means the Western politicians, would accept to stop financing and arming so-called because there would be otherwise no end to the sectarian war, " he said. 
"And I would hope, asking, for lifting the embargo, the sanctions  on Syria. Those sanctions surely harm the population, not those who are in the government," he added.
MANY KIDNAPPINGS
He also expressed concern about the kidnapping of many Christians, including Bishops Yohanna Ibrahim and Boulos Yazigi, who have been missing since their abduction in the northern city of Aleppo on April 22, 2013. 
"We hope to get news [from them], but till now, since the time of their kidnapping...we have no news."
"What we can do?", he wondered. "We have had many kidnapped people. Till now we have at least hundreds and perhaps thousands of kidnapped people," the patriarch explained. "I regret to say that we don't know about them."
With the war ongoing, as many as 600,000 Christians have fled, and thousands died. Those staying behind are facing multiple challenges: they are in the crossfire in fighting between opponents and supporters of President Bashar Assad or face attacks by the Islamic State group and other militants. 
Yet the Syrian church leader says he hopes Christian refugees will one day return to Syria, after Russian-backed Syrian forces "freed" the eastern part of the devestated Aleppo. "By the unification of Aleppo there is hope that Christians will be back like other residents who left Aleppo," he stressed.
RECONCILIATION POSSIBLE?
However, "Ofcourse it will take time to get the needed reconciliation between the government and those who call themselves the opponents," the patriarch acknowledged. 
Amid the misery, he said, churches have been supplying water and other humanitarian aid. And he has a special message for Pope Francis. "Ofcourse Pope Francis is doing a lot [such as] praying and calling on  the  international community to help stop the war either in Syria or in Iraq and not allowing those terrorists to get the possibility to kill others in the name of God [but] to stop them."
The patriarch is in Hungary as it is the first country in the world to have opened a government office  for persecuted Christians. 
"We don't want to discriminate against Muslim refugees", said Tamás Török, Hungary's deputy state secretary for combating persecution of Christians. 
Hungary was among the first EU countries to erect razor wire fences , backed by police and soldiers, to stop migrants fleeing war and poverty.
'REAL REFUGEES'
"I realize that these measures could also have impacted Christians. However real refugees will always be welcome in Hungary," Török told Vatican Radio. 
Behind the scenes talks have been held however on Hungary adopting at least some Christian refugees, though officials say the focus of the 'Office of the Deputy State Secretary for Persecuted Churches' will focus on providing aid to persecuted Chistians in their home countries and other areas. 
In recent days a government delegation already visited Iraq investigate the plight of persecuted  Christians, Török explained. 
Officials say the office will also provide aid to churches in the Middle East and other troubled areas, especially in the areas of Christian studies and by providing books.