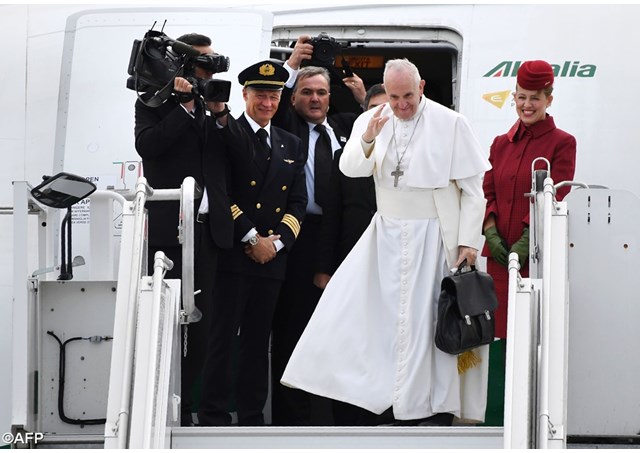 (Vatican Radio) The Italian newspaper La Stampa on Sunday published excerpts from a book, due for publication this week, featuring Pope Francis talking about the journeys he has made since the start of his pontificate.
The book by Italian journalist Andrea Tornielli reveals that the Pope doesn't like travelling very much but feels the need to be near to people and to "sow seeds of hope"
From the first surprise visit to the Italian island of Lampedusa, to his most recent trip to the Swedish cities of Lund and Malmo for a joint Lutheran-Catholic commemoration of the Reformation, the Pope speaks about people he has met and the experiences that have personally enriched him.
These journeys, the 80 year old Pope tells Tornielli, are heavy going, psychologically as well as physically and he wishes had had more time to prepare himself for the trips.
Pope Francis reiterates that he does not fear for his own safety but that he does worry about the risks facing all those who attend large papal events.
The Pope thanks in particular the Swiss Guards and all those who accompany him on his travels, insisting that despite security concerns, he doesn't want to stay behind barriers or travel in bullet proof cars.
The Italian language volume entitled 'In Viaggio' or 'On a journey' will be available in bookshops from Tuesday, priced 18 euros.