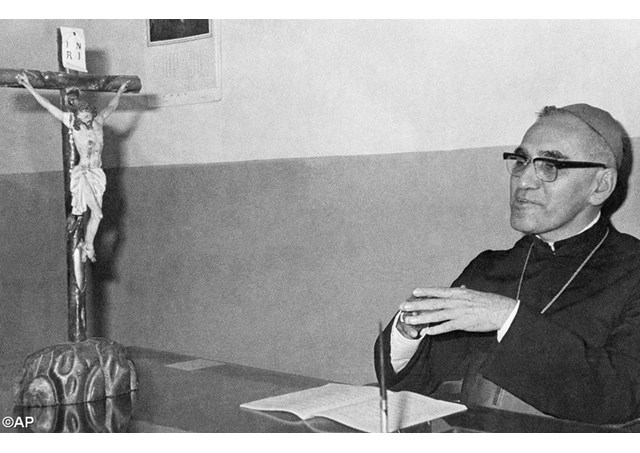 (Vatican Radio) The English archdiocese of Southwark has announced that it has been granted permission by the Vatican's Congregation for Divine Worship to add Blessed Oscar Romero to its liturgical calendar.
The Archbishop of Southwark Peter Smith, said on January 1st that a 'liturgical commemoration' may be celebrated annually in St George's Cathedral, on March 24th, the anniversary of Romero's martyrdom.
Romero, the former archbishop of San Salvador was assassinated as he celebrated Mass in March 1980, targeted because of his outspoken words and actions in defence of the victims of El Salvador's civil war.  In February 2015 Romero was declared a martyr, and he was beatified in San Salvador on May 23rd 2015.
August 2017 marks the centenary of Oscar Romero's birth, an event that will be celebrated in El Salvador and in Churches around the world. To find out more Philippa HItchen spoke to Julian Filochowski, chair of the London based Romero Trust ….
Filochowski notes that Blessed Oscar Romero was born on the feast of the Assumption, August 15th, in 1917 and that the diocese of San Salvador has declared 2017 a jubilee year. There will be commemorative events all over El Salvador, as well as in other parts of the globe, he says.
In Britain there will be a special service at St George's cathedral in London on the anniversary weekend, at which the postulator for the cause of Romero's cannonisation, Archbishop Paglia, is expected to preach.
Ecumenical celebration
In September an ecumenical service is scheduled to take place in Westminster Abbey at which the former Archbishop of Canterbury Lord Rowan Williams will preach and Cardinal Vincent Nichols will attend. A special anthem by the Scottish composer James MacMillan will have its debut performance at that service.
Hopes for canonisation
But Filochoswki says this year "has become particularly exciting in the sense that we have great hopes that it will be the year of Oscar Romero's canonisation". The only requirement needed, he says, is a certified miracle and he believes that although three miracles were examined and rejected, a fourth one, currently under examination in San Salvador, may prove to be the necessary miracle for canonisation.  
That examination process underway in El Salvador should be completed in first quarter of 2017, he says, and "if, as we believe, Pope Francis very much wants to see this canonisation happen during the centenary year", the process could be prioritised,  and "we might therefore see at least the announcement, if not actual canonisation, during this centenary year - which is our hope and our fervent prayer".