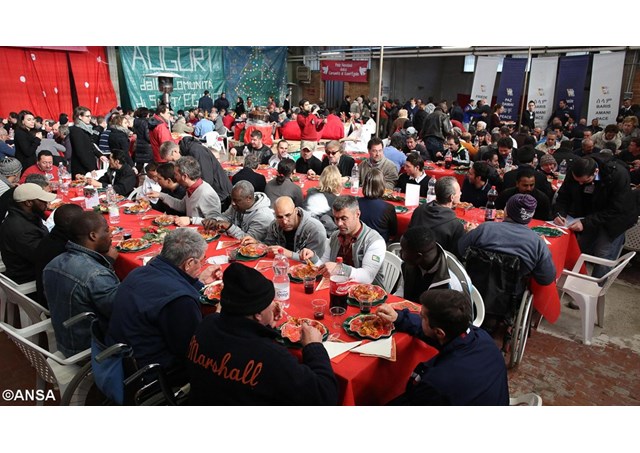 (Vatican Radio)  The Catholic lay community Sant'Egidio is gearing up for its traditional Christmas lunch for the poor, marginalized and homeless.  Sant'Egidio first offered the lunch to a couple dozen elderly friends, neighbors and homeless in the Rome Basilica of Santa Maria in Trastevere in 1982.  Since then, the event has extended to communities in more than 700 cities across the globe and this year, organizers expect some 200,000 people, including prisoners and refugees to attend.
Sant'Egidio has re-baptised the event "the most beautiful lunch of the year" because "there is a place at the table for everyone."
In Africa, Asia, and Latin America, street children and those who frequent the community's Peace Schools are also among the honored guests.
In Italy, where the now global community first took root, hundreds of cities are participating in the event, offering Christmas lunches over three days to more than 40,000 people, including the basilica in Trastevere where it all started.
Sant'Egidio calls itself a "family gathered by the Gospel. Therefore at Christmas, when all over the world families gather around the table, the Community celebrates with the poor, who are our friends and our relatives."
"This is the reason why the Community wishes, on the very day Jesus was born, poor for the world's salvation, to gather as a big family where everybody can feel at home. It is the most beautiful image, which explains to the world eloquently the Community way of staying among the people and particularly with the poor."  In a world marked by terror, violence and war, the Community hopes this year's initiative "will launch a robust message of peace and solidarity."