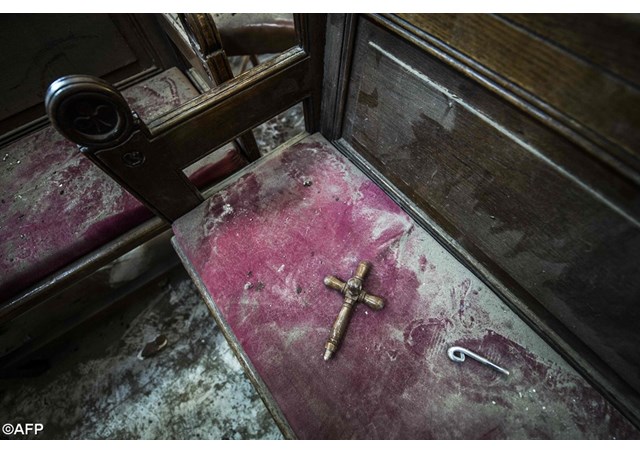 (Vatican Radio) A bombing at a chapel adjacent to Egypt's main Coptic Christian Cathedral in Cairo on Sunday killed 25 people and wounded another 49.
The attack,  during the celebration of Mass, in one of the deadliest carried out against the religious minority in recent memory.
The bombing came two days after a bomb elsewhere in Cairo killed six policemen, an assault claimed by a group that authorities say is linked to the outlawed Muslim Brotherhood. 
Islamic militants in Egypt have targeted Christians in the past, including a New Year's Day bombing at a Church in the city of Alexandria in 2011 that killed at least 21 people.
Authorities said an assailant lobbed a bomb into a chapel close to the outer wall of St Mark's Cathedral, seat of Egypt's  Orthodox Christian Church and home to the office of its spiritual leader, Pope Tawadros II, who is currently visiting Greece. 
Speaking after the Angelus prayer in St. Peter's Square on Sunday morning, Pope Francis expressed special closeness to "my dear brother Tawadros II" and he prayed for the victims of this and other terrorist attacks that have been perpetrated in the past 24 hours.
Please find below the statement by His Grace Bishop Angaelos, General Bishop of the Coptic Orthodox Church in the United Kingdom:
11 December 2016
It is with great sadness that we receive the news today of at least 25 people brutally murdered by an explosion during regular Sunday worship at St Peter's Coptic Orthodox Church in Cairo, adjacent to the Grand Cathedral of Saint Mark.
 
Our prayers are with those whose lives have been so senselessly ended, those who have been injured, and every family and community affected. We also pray for every Coptic parish and community across Egypt as they fill their churches this morning, as well as for the broader Egyptian society that fall victim to similar inhumane attacks.
Many within our Coptic community in Britain will have family and friends in Egypt, and we also pray for them at this time of uncertainty. 
We share in this tragedy but are encouraged by the strength and resilience of our brethren in Egypt that we have grown accustomed to and learn from. We pray God's peace and protection upon the Christians of Egypt, the broader Egyptian society, Christians around the world worshipping this morning and all faith communities that fall prey to similar attacks.