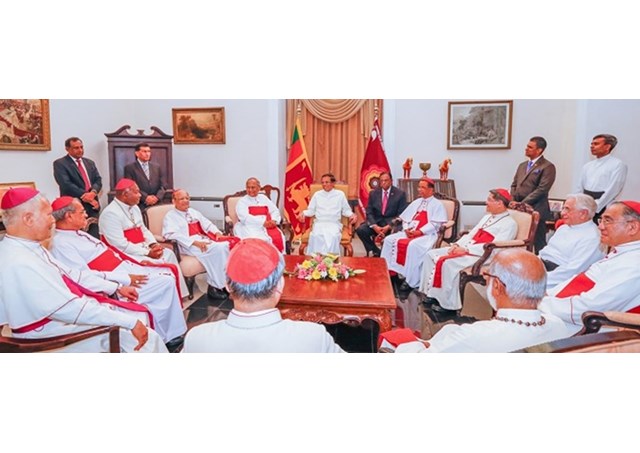 Sri Lankan President Maithripala Sirisena met on Wednesday with a delegation of Asian bishops and thanked them for the immense contribution made by the Catholic Church to socially uplift and help the poor and disadvantaged of Sri Lanka. 'It is indeed a blessing to Sri Lanka having such high and learned leaders to lead not only the Catholics but also the people in Sri Lanka," the president said.
Over 140 bishops, archbishops, cardinals and priests from 40 countries gathered to discuss Asian family values, the church of the poor and the mission of mercy from Nov. 28 – Dec. 4.  It was the 11th plenary assembly of the FABC and was the first to be held in Sri Lanka. The Sri Lankan government contributed to the organisation of the event with some 10 million rupees, or about US$ 70,000.
The president met the bishops at his official residence in Colombo on Nov. 30. He took the opportunity to praise the Catholic Church and highlight the work done in Sri Lanka, a war-ridden land of past decades.
"It is very significant that you have selected Sri Lanka to hold this conference," he told FABC delegation comprising Card Oswald Gracias, archbishop of Mumbai and president of the FABC, Card Malcolm Ranjith, archbishop of Colombo, and Archbishop Pierre Nguyen Van Tot, apostolic nuncio to Sri Lanka. "I appreciate the work accomplished by the Catholic Church for the poor, in fact, a few weeks ago, I declared 2017 as 'poverty eradication year' in Sri Lanka," he said.
"Sri Lanka is a nation of different religions and diverse cultures and has a tradition going back several centuries," Sirisena said. "We have a closer understanding and respect for each other's culture, customs, traditions and values."
The president stressed the importance of meeting the bishops in a country like Sri Lanka where peace and harmony reign. "If you travel from North to South and East to West you will come across places of religious worship of Buddhists, Hindus, Muslims and Christians in all the villages and cities," he said.
With respect to the conference's theme, 'The Asian Catholic Family: Domestic Church of the Poor on a Mission of Mercy', Sirisena said, "I appreciate the work of the Catholic Church in the promotion of the social and religious life of the people".
President Sirisena presented a memento to FABC representatives and they watched a number of cultural performances together. While in Colombo, FABC delegates also visited Buddhist and Christian shrines and several other places of interest.
A number of ministers were present at the meeting with the president including John Amaratunga, the tourism, Christian affairs and lands minister. Sri Lankan Prime Minister Ranil Wickremesinghe said that his government welcomes suggestions from the FABC.
"The government promotes peace, reconciliation and recovery from decades of civil war," said Wickremesinghe addressing FABC members on Nov. 29. "The government waits for the support of Catholic bishops and other religious leaders to promote family values," he added.
(Source: AsiaNews; UCANews)