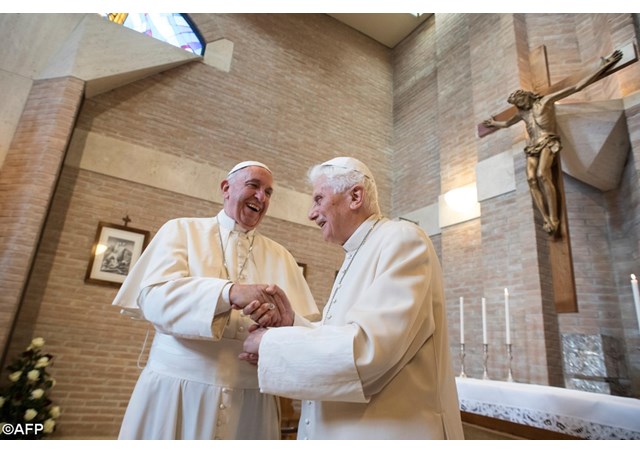 (Vatican Radio) Pope Francis on Saturday morning addressed the winners of the 2016 Ratzinger Prize, Msgr Inos Biffi and Ioannis Kourempeles, in the Vatican's Clementine Hall.
Listen to Ann Schneible's report:
Awarded by the Joseph Ratzinger-Benedict XVI Vatican Foundation, the Ratzinger Prize is given as a sign of the Church's gratitude to scholars and professors who have stood out for their scientific research in the theological field. 
Msgr Biffi, a professor, and internationally renowned theologian and liturgist, was awarded the prize for his Opera Omnia, a collection of his writings, most of which are on theology and medieval philosophy.
The other winner, Prof Kourempeles is a member of the Orthodox Church, is associate professor in the Department of Theology at the Aristotle University of Thessaloniki, Greece.
In his address to the winners, Pope Francis began by expressing "great affection" and "gratitude" for Pope Emeritus Benedict XVI, as he "continues to accompany us even now in his prayer."
"The depth of Joseph Ratzinger's thought, firmly founded upon Scripture and the [Church] Fathers, and always nourished by faith and prayer, helps us to remain open to the horizons of eternity, thus giving meaning even to our hopes and our human responsibilities," the Holy Father said.
The Pope spoke of Benedict XVI's richness in "thought and magisterium,  which knew how to center on the essential reference points of our Christian life, the person of Jesus Christ, charity, hope, faith.  And the whole Church will be forever grateful."
Pope Francis went on to congratulate the winners of the 2016 Ratzinger Prize; Msgr Biffi who received the award in recognition of his career as a "great theologian", and Prof Kourempeles for his work in exploring the "richness of the encounter between Ratzinger's thought and Orthodox theology".
He concluded by praying that the Lord might always bless them and their "service to his kingdom."