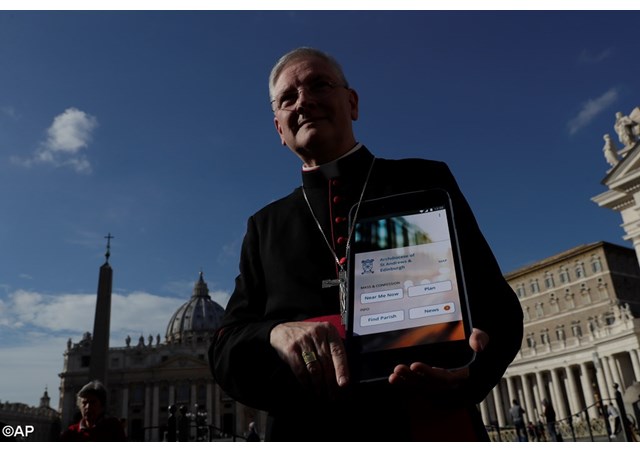 (Vatican Radio) In an impressive move to introduce a legacy of the Year of Mercy, a Scottish archbishop has launched what is thought to be the world's first GPS-powered Sacrament-finding app.
Archbishop Leo Cushley from the Archdiocese of St Andrews and Edinburgh announced the launch of 'The Catholic App' outside St Peter's Basilica on 22nd November 2016, surrounded by pilgrims and seminarians from his archdiocese, accompanied by the sound of the Scottish bagpipe.
The app will allow users around the archdiocese to find the nearest and soonest opportunities to go to Confession and Holy Mass, as well as Adoration of the Blessed Sacrament.
The archbishop called the app "a little bit of smart technology that could make a big impact on how the Catholic Church brings the mercy of God and the joy of the Gospel to our contemporary world."
The app will be launched in conjunction with Scottish technology company Musemantik. Dr Maciej Zurawski is the founder and CEO. He said that he now hopes that other Catholic dioceses around the world will purchase the new app. He said that in a time when websites are losing popularity, it is important to engage "with the mobile generation, with an app that is smart and personal."
Also present was Monsignor Viganò, Prefect of the Vatican's Secretariat for Communication. He was quick to praise the launch. "I congratulate Archbishop Cushley, the Archdiocese of St Andrews and Edinburgh and the Catholic Church in Scotland for being so imaginative in responding to the Holy Father's call to bring the mercy of God to modern society by means of modern communications." He continued, "That's why I'm sure that the Church in many other parts of the world will sit up and take note of this launch today."
Vatican Radio's Ryan Black met with Archbishop Cushley after the announcement. They spoke about the app and about the former Vatican diplomat's recent encounter with the Holy Father at the Closing Mass in St Peter's Square, when he received the Apostolic Letter, Misericordia et misera, from Pope Francis on behalf of the bishops of the world. His Grace also spoke about another Year of Mercy legacy that will be launched on the feast of the archdiocesan patron, St Andrew the Apostle.
The Catholic App will go live in early 2017. Musemantik hope that today's high-profile – and noisy – launch in Rome will persuade other dioceses throughout the Catholic Church to purchase the app in the weeks to come. More information about the app can be found at www.thecatholicapp.com.