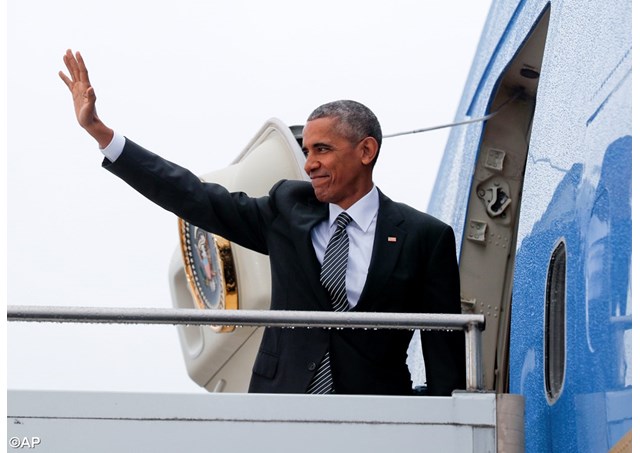 (Vatican Radio)  Outgoing US President Barack Obama and European Union leaders have met to reaffirm their commitment to the unity of the NATO military alliance and sanctions against Russia over the Ukraine crisis. They made the announcement amid concerns about the future of European-American relations when Donald Trump takes over the US presidency in January.
Listen to Stefan Bos' report:
Obama met the leaders of Germany, Britain, France, Italy and Spain in Berlin at a time of uncertainty about the future of transatlantic relations.
It was their first summit since Donald Trump won the US presidential elections following a controversial campaign. Trump has criticized the NATO military alliance and said he hoped for warmer ties with Russia despite international outrage over its military role in Ukraine and Syria.
And in comments that have worried especially some of Russia's neighbors, Trump called the 70-year-old alliance "obsolete" and said the US might only defend those member states who had been attacked if they had paid their NATO dues.
Yet, NATO General Secretary Jens Stoltenberg tried to ease tensions, with the alliance saying he had spoken by phone to Trump, congratulating him on his election victory.
DEFENSE SPENDING
Stoltenberg also told reporters that he understood Trump's concerns about defense spending. "(Trump's) main message was on defence spending, burden sharing, between Europe and the United States. And there I absolutely agree with him. We need a more balanced burden sharing between the United States and Europe. It's not viable in the long run that the United States pays 70 percent of the total defence spending of NATO," the former Norwegian prime minister said.
And he said he was looking forward to meeting Trump. "I welcome him to the NATO summit in Brussels. And I am looking forward to welcoming him. because I am absolutely confident that President Trump will maintain American leadership in the alliance and will maintain a strong US commitment to European security," he added.  
His comments came after President Obama urged president elect Trump to stand up to Russia.
He and EU leaders also said that attacks on the city of Aleppo by Syrian government troops and Russia "should be immediately halted".
And they made clear that the sanctions imposed against Russia must remain in place until Moscow fully met its commitments to resolve the conflict in Ukraine. Western nations accuse Russia of sending its troops and weapons into eastern Ukraine to support separatist fighters - a claim Moscow denies.
Yet the future of the European Union remains shaky with British Prime Minister Theresa May saying that preparations for Britain's exit from the EU were "on track" and might be triggered by the end of March next year.