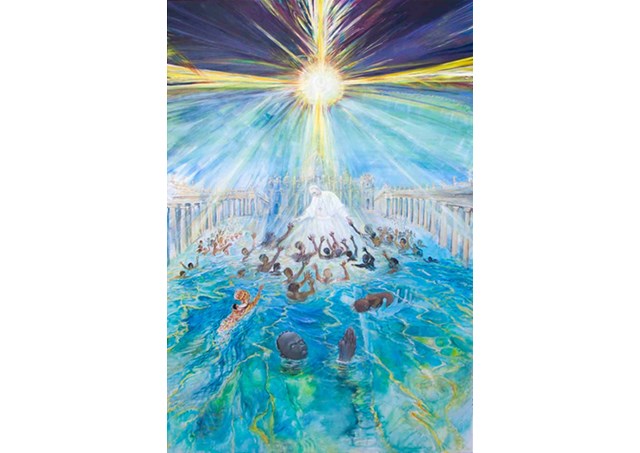 (Vatican Radio) As the Year of Mercy draws to a close, a group of Australian artists on Thursday came together in Rome to perform a work dedicated to the theme of this Jubilee Year.
'The Faces of Mercy' combines music by composer George Palmer, poetry by author Keven Brophy and artwork by Sydney born artist Niké Arrighi Borghese. It also draws on the writings, preaching and speeches of Pope Francis reflecting on the theme of God's mercy for all of humanity.
Listen to Philippa Hitchen's report: 

The idea for this project originated with the former Australian ambassador to the Holy See John McCarthy. Over the centuries, he noted, Jubilee Years "have inspired sacred works" by many great artists and writers. In a similar way, 'The Faces of Mercy' offers a reflection on this year proclaimed by Pope Francis, through some of the best music, poetry and art that Australia has to offer.
Supported by the archdiocese of Sydney, Australian Catholic University and the Catholic Super pension fund, the performance premiered in St Mary's Cathedral, Sydney, in October, before coming to Rome to mark the end of the Holy Year.
The multi-sensory work moves from the themes of despair and desolation, through pardon and hope, to the final meditations on mercy and love. The poetry, the music and oil paintings can all stand alone, yet woven together they form a powerful triptych of differing perspectives on our human dialogue with the divine.
As well as drawing on papal teachings about mercy, the texts are also inspired by the psalms and other Old Testament writings, reflecting on the timeless search of humanity for hope, joy and meaning in our lives.
As Pope Francis prepares to close the Holy Door of St Peter's Basilica on Sunday, the performance offers a fitting response to his call for bold and creative ways of witnessing to God's mercy in the world.