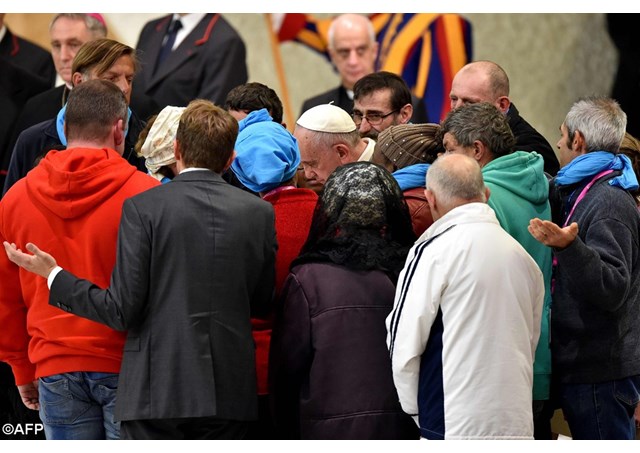 (Vatican Radio) Pope Francis on Friday welcomed to Rome more than 6000 people, men and women from various European nations, who have lived, or are even now, living on the street.
The Jubilee for Socially Excluded Persons embraced not only the homeless, but also disadvantaged persons and people living in poverty.
The event was made possible with the help of "Fratello", an association which organizes and hosts events with and for people in situations of exclusion, in partnership with associations assisting such people.
Following testimonies from two of the participants, Pope Francis addressed the crowd, thanking them for coming to Rome to meet with him and to pray for him. The Holy Father reflected on some of the ideas brought up by the two men who spoke before him.
The first was that human beings do not differ from the "great people" of the world. All men and women, the great and the small, have their own passions and dreams. "Don't stop dreaming!" the Pope insisted. The poor, he continued, are at the heart of the Gospel; they came to Jesus precisely because they dreamed that the Lord would help and heal them.
Pope Francis then turned to another expression, "Life becomes beautiful." This signifies dignity, he said. "The ability to encounter beauty, even in things that involve the most sadness and suffering, is something that only men and women who have dignity can have." He emphasized the virtue of solidarity, when people – especially those whose lives are difficult – are able to have compassion for others who are suffering even more. And he thank those present for their example of solidarity, asking them to teach solidarity to the world.
Finally, Pope Francis spoke on the theme of peace, calling on everyone to continue to work in favour of peace in the world. "The greatest poverty is war!" he said. "It is the poverty that destroys… We need of peace in the world! We need peace in the Church!"
Following his address, a group of the poor and disadvantaged, who had joined Pope Francis on the stage, gathered round the Pope, placing their hands on him, and praying for him.
Listen to Christopher Wells' report: