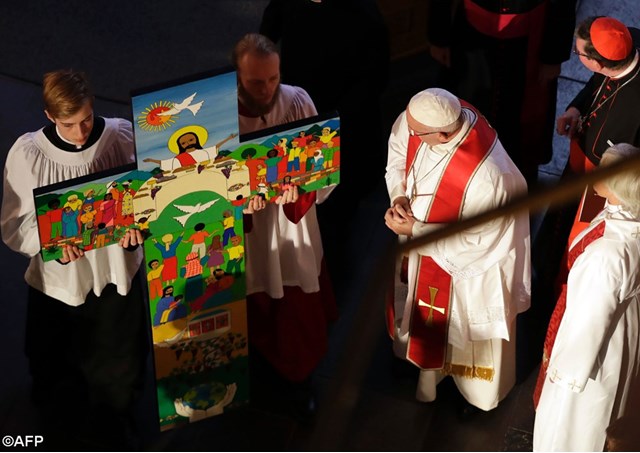 (Vatican Radio) Pope Francis revealed on Thursday that the search for Christian unity is one of his principle concerns, one that he prays may be shared by every baptized person. The Pope's words came as he met in the Vatican with participants at a plenary session of the Pontifical Council for Promoting Christian Unity. The meeting, from November 8th to 11th is exploring the theme "What model of full communion?"
Listen to Philippa Hitchen's report: 

In his words to the group of ecumenical experts from across the globe, the Pope recalled the many important encounters he has had this year with leaders of other Christian communities. In particular he recalled his recent visit to Lund in Sweden to jointly preside at a Lutheran-Catholic commemoration of the start of the Protestant Reformation. That visit, he said, reminded him of the so called 'Lund Principle', formulated by the World Council of Churches back in 1952, which states 'churches should act together in all matters except those in which deep differences of conviction compel them to act separately'.
Pope Francis stressed that Christian unity is an essential requirement of our faith, a journey of personal and community conversion to the will of Christ. He warned against three false models of communion, starting with the belief that we can achieve unity through diplomatic maneuvers or human efforts alone.
Unity, he insisted, is a gift from God and our task is to welcome that gift and make it visible to others. Rather than just a goal to be achieved, he said, we should see the search for unity as a journey that we undertake together with patience, determination, effort and commitment, knowing that all of us are sinners for whom God has infinite mercy. Remember, he said, that when we work, pray and serve the needy together, we are already united.
The second false model that he warned against was the model of uniformity. When theological, liturgical, spiritual and canonical differences are genuinely rooted in the apostolic tradition, he said, they are not a threat, but rather a treasure for the unity of the Church. Trying to suppress such differences, he warned, as happened in the past, goes against the Holy Spirit who enriches different Christians with a variety of gifts.
Finally Pope Francis cautioned against the idea of unity as 'going back in time' to incorporate one church into another. No one should deny their own faith history, he said, and no-one should tolerate the practice of proselytism which he called 'a poison for the ecumenical journey'. True ecumenism, the Pope concluded, is when we focus not on our own reasons and regulations, but rather on the Word of God which requires us to listen, to receive and to witness to the world.