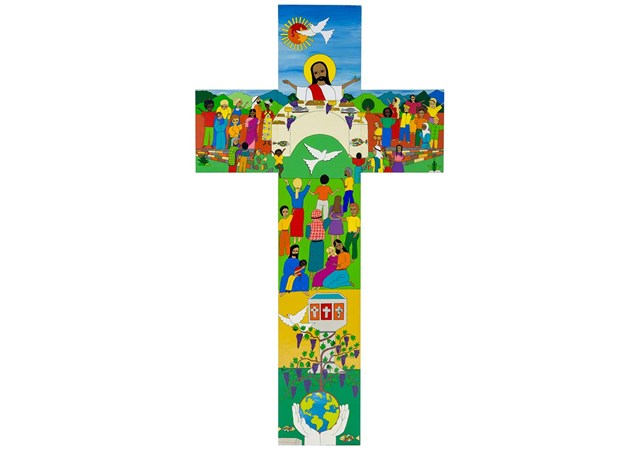 (Vatican Radio) Christian Chavarria Ayala from El Salvador is the artist who designed and painted the wooden cross which has been chosen as the symbol of Pope Francis' apostolic journey to Sweden to mark the 500th anniversary of the Reformation.
The brightly colored cross with its doves, its vine and its depiction of Jesus welcoming people of all backgrounds to participate in his banquet brings a message of hope from one of the most conflict-ridden countries in the world today.
Chavarria Ayala told Philippa Hitchen he felt hugely honored when the World Lutheran Federation General Secretary asked him to paint the cross for the prayer service of the Joint Ecumenical Commemoration on Monday 31 October in Lund.
Listen to the interview: 


    
Christian Chavarria Ayala says his crosses are very colorful and painted in a very simple way "but this is the gift that God gave me, and this is what I have!"
He explains that on this particular cross there are many symbols and what he wanted to show is how God works in our world:  there are God's hands holding the world meaning that the Lord created everything; then there is the vine and Jesus is telling us 'I am the vine and you are the branches'; the people depicted on the cross are of all colors and ethnicities and they are all being called to the table of the Lord's banquet "and everyone is happy because God wants us to be happy, just as every parent wants his children to be happy"; there are also three white doves on the cross, because he says, "I have always believed the Holy Spirit is with every person, even in the most difficult moments of one's life".
Chavarria Ayala points out that there are doves on every cross he paints also because in his own country, El Salvador, the dove was considered a sign of protest. For years, he explains, it was forbidden to paint pictures of white doves in El Salvador, to the extent that doing so put the life of artists in danger.
He recalls the day Salvadorian soldiers asked him about the white birds on his early paintings and says "I did not give the true reason - that the doves were my wish for peace in the country - you were not allowed to say that." 
Chavarria Ayala also goes on to speak of the important role the Catholic Church played in his country during the civil war and says it is still has pivotal work to do on the rocky road to peace and justice, also because, he says, reconciliation has not taken place in El Salvador, and the youth especially, are in deep need of guidance and hope.
The artist also speaks of how there is no State programme for people with disabilities in El Salvador and of how he involves disabled people in his workshop for whom making crosses has become doubly significant because  it provides livelihoods for entire families as well.